The Fourth Day of AmeriCorps Week at Open Door Shelter
The Fourth Day of AmeriCorps Week at Open Door Shelter
On Thursday, March 12th, the HealthCorps members hosted a career fair at the Open Door Shelter in Norwalk, CT as part of AmeriCorps Week. Approximately 20 people received career counseling, free interview attire, mock interviews, and resume assistance at the shelter, just a block away from the Community Health Center on Day Street. Eliza Hompe, an AmeriCorps member based in Fairfield County, has previously worked with some of the shelter's residents as a Community Resource Advocate, providing assistance with non-medical needs such as housing. She felt a career fair at the Open Door Shelter would be a great way to empower residents, provide a much-needed service, and strengthen the community while simultaneously harnessing the talents and enthusiasm of our AmeriCorps group!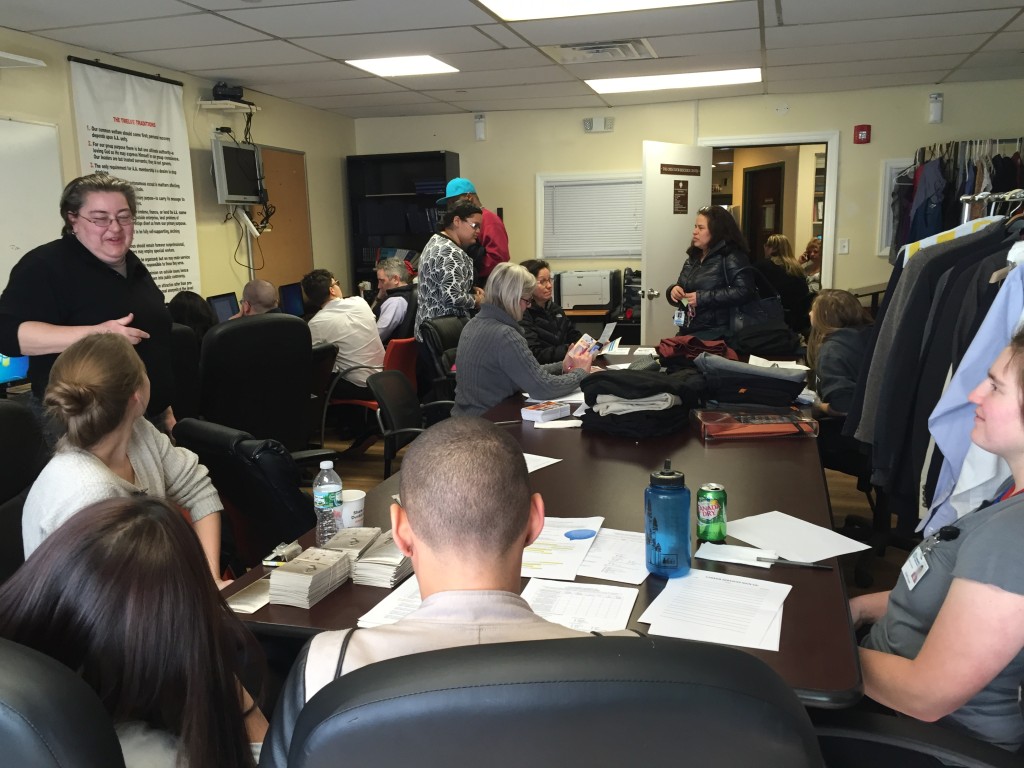 For attendees unsure of what career might be best for them, Karen Anderson used the Environment and Personality Intuitive Card Sort (EPICS) to help them understand their own unique strengths and preferences. The assessment, consisting of 108 picture cards to elicit intuitive, cognitive, and emotional responses, allows people to discover potential areas of interest and move forward with career exploration. "EPICS test said I was an Artistic Personality who preferred Realistic Environments. I think that describes me well, since I want to go into social work," remarked an attendee.
AmeriCorps members scoured the internet for open job postings and used Craigslist to find jobs each resident would be interested in and had the skillset and experience for. Residents and community members interested in furthering their education received information about nearby literacy and ESL classes from a Norwalk Library staff member. Others pored over admissions and financial aid informational packets from Western Connecticut State University and did mock interviews with career counselors from Ability Beyond, an organization that specializes in helping individuals with disabilities.
A clothing drive at the Community Health Center sites in Norwalk, Stamford, Danbury, New Britain, and New London and The Red Barn Thrift Shop in Woodbury provided professional clothes for people excited about future job interviews. Racks of suits, shirts and pants in every size and dozens of dress shoes and heels filled a corner of the room of the shelter. The residents were incredibly excited to try on outfits and have the opportunity to shop and browse the racks! They were truly "dressed for success" and the confidence bolstered by their new, professional look will hopefully translate to a great first impression with local employers.
One man was interested in continuing his education and, in particular, enrolling in a course to become an emergency medical technician. Priti Shah tirelessly searched for EMT-B courses with him and reached out to Norwalk Community College to get course schedules and registration information. For him, it was the first steps towards his dream job. Another resident reviewed her comprehensive work history with Nam Duong, who helped her write a resume and apply to two jobs in Norwalk through the internet. One of the positions she was interested in, a valet attendant, required knowing how to operate a manual transmission. "She laughed and told me stories about her first car, a manual Chevy, and how she loved riding motorcycles. Listening to her personal story and learning about her aspirations was immensely rewarding for me. I came to understand her not only as someone in need, but someone seeking to live life in a way that made her happy."
AmeriCorps members are grateful for the support of the Community Health Center, Inc. and its staff in putting on the career fair event. Timothy Spagnola and Catrice Ghannam, clinical recruitment and human resource specialists at CHC, provided individuals at the Open Door Shelter with services including resume writing, one-on-one mock interviews, and career advice. "It was a very rewarding experience and we were both thankful to be able to help in some small capacity with our organizational mission," said Timothy Spagnola.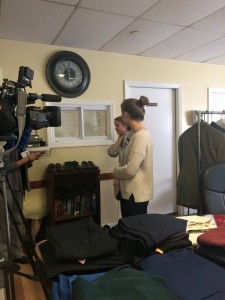 With all of the services offered and the partnerships of different organizations in the Norwalk community, the career fair generated a lot of buzz. Channel 12 News even came to cover the event and interviewed Open Door Shelter staff and several AmeriCorps members.
For residents, a job means a chance at stability and security. One of the residents said, "I feel confident now. There are so many things I worry about every day, but because of this event, I feel like I can get a job." We were excited to dedicate a day of our AmeriCorps Service Week to empower these individuals and help them take the first steps towards pursuing rewarding careers.