The Third Day of AmeriCorps Week – Serving at Master's Manna
The Third Day of AmeriCorps Week – Serving at Master's Manna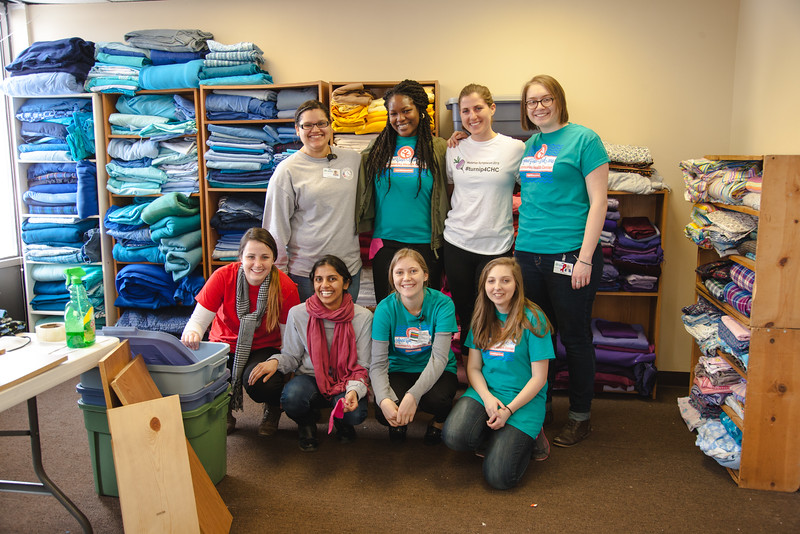 During our week of service, the AmeriCorps members of the Community Health Center took some time to help both medical and non-medical services throughout the state. We spent time honing our less-used skills of light construction, furniture moving, and even resume building: though this was fun for us, it was certainly a great burden lifted from the shoulders of the organizations we visited. On Wednesday, March 11, we headed to Wallingford to lend our hands to Master's Manna, a food pantry and resource center. Master's Manna just expanded their organization to the entirety of the building they occupy, and needed help moving furniture and shifting space to accommodate their new needs.
We arrived early on Wednesday to be greeted by an enthusiastic Cheryl Trzcinski,who welcomed us to the pantry and showed us what was needed. Mrs. Trzcinski, the co-founder and CEO of Master's Manna, explained how the pantry had just received a huge shipment of quilting materials. She hoped these could be used later in a quilting class whose pieces could be sold for fundraising purposes. Some of us were directed towards other needs, such as organizing recent supply donations and cleaning recently acquired spaces; however, most of us got to work unpacking and shelving hundreds of yards of textiles.
Most of the day was taken up by quilting projects, but this job was never dull. Established volunteers and employees of the resource center stopped by to check on our progress, thank us for our efforts, and offer some fun stories and anecdotes throughout the process. Cheryl herself would often stop by, hugely excited, and thank us profusely for our efforts. Even while we were simply moving shelves and unpacking boxes of fabric, we could really feel the effects of our efforts in the Master's Manna community.
We were surprised when, midway through the afternoon, we managed to sort our last box of fabrics. We had filled half a room with empty tubs and the other half with neatly stacked (and sorted by color) reams of different materials. When Mrs. Trzcinski came by to see our finished work, she nearly jumped up and down with excitement. We could all really feel the effects of our hard work in that moment, and we were given some well-deserved time to relax before supporting other miscellaneous projects in the building.
Wednesday was certainly a different sort of work than many of us usually take on at the Community Health Center. However, it cemented for most AmeriCorps members the real differences we could make even doing something as simple as organizing fabric. Our efforts truly aided an organization – and population – in need, and the thanks we received in return was equally validating. I am pleased that we got the chance to work in Wallingford, and I hope that our group can return in the future with equal excitement.
Written by Julia Sisson