How does your garden grow?
How does your garden grow?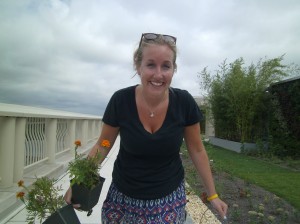 This has been the final week that students from the Macdonough summer school garden club have come to the rooftop of CHC's building in Middletown to tend to their plots before its time to go back to school. For the past month, students entering grades 3 & 4 have been maintaining the vegetables that we planted in the beginning of May, taking home various vegetables and enjoying the beautiful rooftop. We loved gardening with the students so much that we are now trying to jumpstart a staff garden club where CHC employees will have an opportunity to choose what to plant and then help sow the soil. The Middletown Garden club is also offering their botanical skills to help the students in the fall.  The empty garden plots on the roof have come a long way in a few short months but there is still work to do!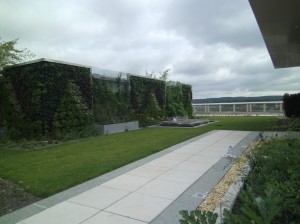 Every week the students make the long trek up 3 flights of green brightly colored stairs to make our way to the roof. After explaining to a few uneasy kids that climbing the stairs is a great way to exercise, they quickly forget once we get to the top.  It seems that week after week, the view from the roof never gets old; the students are just as amazed as the first time. Last Friday, one young girl who is often quiet, looked at me and said "I wish I could live here". I quickly responded "me too".  For approximately one hour, students take turns planting, watering, weeding, cutting vegetables, sampling vegetables and then there is usually a little extra watering.  They are always excited to potentially take the elevator back down to the main floor but I am sure it is just because they are tired from all that gardening!
A few staff members from Middletown have become involved with planting in the two plots facing the end of North Main Street. Behavioral Health is interested in maintaining an herb garden and hopefully having a few patient groups being able to visit on a weekly basis. As the final chance to plant one last harvest before the colder months, we are looking into filling up a plot with strawberries and blueberry bushes for employees to look forward to in the spring.  The Middletown garden club is very interested in hosting one of their programs on the rooftop in September because they have heard such wonderful things about the paradise in the sky at 675 Main Street. A few months ago, I had no idea how much I would enjoy my time planting on the roof. It has been a delight to work with the young gardeners and see how passionate these students are about their plants. I am also looking forward to collaborating with my CHC peers in hopes of creating a great place for staff to take a break from the work day and help maintain the plots. If you have any community garden ideas or if you have interest in learning more about participating with the rooftop gardens, please let us know! [email protected]