Ramadan Mubarak – The Memorial in the Luis Lopez Community Garden
Ramadan Mubarak – The Memorial in the Luis Lopez Community Garden
"No man is an island…" The famous words of the great English Poet John Donne rattles through my mind as I sit at my desk.  The other day a friend's father passed away and it has set a tone for the week.  I put on a medley of songs of remembrance.  Sarah McLachlan 's voice comes through the speakers, "Will you remember me?"
As is often the case, it's been a busy week in the communications department at CHC.  Wednesday, I found myself sitting at the conference room table discussing yet another important issue.  There was a card on the table.  It says, "Ramadan Mubarak" across the top and shows a beautiful young boy in a field.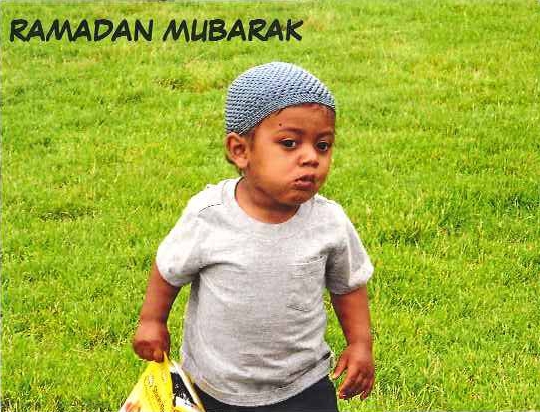 "What's this?" one of my co-workers asks.  Later, we're told that it is part of a memorial down in the Luis Lopez Community garden for some kid that recently died.
Fighting back the tears, I excuse myself and rush down stairs, hoping that the mourners are still there and that I can share words of condolence with his mother.
"Each man's death diminishes me, for I am involved in mankind."
This is not the memorial for some kid.  It is the memorial for Junaid.  The back of the card reads
In the name of Allah

Junaid

From Allah we come & to Allah we return

DOB May 13th, 2010
DOD July 11th, 2012 from
Stage 4 Neuroblastoma Cancer

In the arms of his loving mother.
No, this is not the memorial for some kid.  It is the memorial for the son of a loving mother, it is the memorial for a member of our community.  I had met the mother a few weeks earlier at a concert in the community garden.  She spoke of how much her son loved music and flowers and how he would have loved to have been at the concert in the garden.
There is a great quote from the movie Norma Rae which comes to mind when I think about people that have died.
On October 4, 1970, my grandfather, Isaac Abraham Warshowsky, aged eighty-seven, died in his sleep in New York City. On the following Friday morning, his funeral was held. My mother and father attended, my two uncles from Brooklyn attended, my Aunt Minnie came up from Florida. Also present were eight hundred and sixty-two members of the Amalgamated Clothing Workers and Cloth, Hat and Cap Makers' Union. Also members of his family. In death as in life, they stood at his side. They had fought battles with him, bound the wounds of battle with him, had earned bread together and had broken it together. When they spoke, they spoke in one voice, and they were heard. They were black, they were white, they were Irish, they were Polish, they were Catholic, they were Jews, they were one. That's what a union is: one
Here in Middletown, forty years later, similar words apply.  In this case, we are talking about a young Muslim boy and his loving mother, and we are talking about being part of a community not part of a union.
But that's what we are, the Community Health Center with our Luis Lopez Community garden.  In death, as in life, we stand by one another.