@DrNwando Rocks #jnj #inpsirecare Panel at #BlogHer12 Talking about @MyText4Baby
@DrNwando Rocks #jnj #inpsirecare Panel at #BlogHer12 Talking about @MyText4Baby
One of the greatest challenges for a social media manager at a health care organization is getting subject matter experts to speak online in a way that will resonate with others and get repeated.  CHC has some brilliant writers who create wonderful presentations and great articles for peer reviewed journals, and I've struggled to help them find their voice online.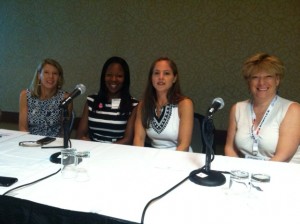 Friday provided a spectacular example of what can happen when a provider finds their online voice.  At 10:30, our Chief Medical Officer, Dr. Nwando Olayiwola, was supposed to join a panel at the 2012 BlogHer conference in New York City.  The panel was sponsored by Johnson and Johnson as part of their Inspire Care campaign.
Her brother, @mekkadonmusic, who has over 12,000 followers on Twitter showed up, and working with him, we managed to get @DrNwando onto Twitter.
It was a great panel, starting off with @SharonDAgostino,  VP of Corporate Citizenship at @JNJComm, followed by @carolynsave, CEO of @savethechildren.
@DrNwando jumped right in, tweeting about the first speakers and then thanking others who retweeted about her talk.
The great discussion online encouraged other BlogHer attendees to come in and catch the rest of the panel and afterwards I heard many people talking about what a great panel it was.
@DrNwando summed it up nicely in an email
Thanks again for the support and the great effort you made at the BlogHer conference!  It was really a spectacular session, full of very positive energy and hope.  I hope this has further launched text4Baby into the minds and palm of women all over the world.
Fully embracing Twitter, @DrNwando went on to tweet a picture of the wedding of CHC's Waterbury Onsite Medical Director.
Welcome to Twitter, @DrNando, congratulations Becky and Gary, and best wishes to women around the world that start using @MyText4Baby around the world