Miso Soup for the Mind, Body and Soul
Miso Soup for the Mind, Body and Soul
Vending machines are becoming the last thing on employee's minds at the Community Health Center, Inc. of Middletown.  Employee wellness is a huge campaign among CHC staff and some new ways to snack throughout the work day are being introduced to get people excited for more to come. Last week, CEO, Mark Masselli and Dr. Lecce were the first two people to sample the brand new Miso soup machine now located in the staff commons area of the Community room at 675 Main Street.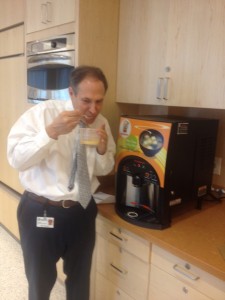 Miso soup is a traditional Japanese soup consisting of a stock called "dashi" into which softened miso paste is mixed. Many ingredients are added depending on regional and seasonal recipes, and personal preference. The choice of miso paste for the miso soup defines a great deal of its character and flavor. Miso pastes can be categorized into red (akamiso), white (shiromiso), or mixed (awase).
Miso has been a staple in Chinese and Japanese diets dating back approximately 2,500 years. Today, most of the Japanese population begins their day with a warm bowl of miso soup believed to stimulate digestion and energize the body. Below are 6 scientifically researched benefits of eating miso.
1.Contains all essential amino acids, making it a complete protein.
2. Restores beneficial probiotic to the intestine.
3. Strengthens the quality of blood and lymph fluid.
4. Strengthens the immune system and helps to lower LDL cholesterol.
5.Has good vegetable-quality source of B vitamins (especially B12).
6. Reduces risk for breast, prostate, lung and colon cancers.
The soup machine is up and running and CHC staff is encouraged to check out the newest addition to the community room and enjoy some soup. I can only imagine how popular it will become during the winter months, but should be a great lunch treat or mid day snack for staff.  Soup is good for the soul but Miso Soup is good for the mind, body and soul!