Travels with Marwan: Day 1
Travels with Marwan: Day 1
Dr. Marwan Haddad, Medical Director of our Center for Key Populations, is in Uganda for two weeks with the HRSA-PEPFAR (President's Emergency Plan for AIDS Relief) pilot program. He'll be sending us his thoughts and pictures about this experience. Follow along with his adventure here!
May 6, 2019 — Kampala
I arrived in Uganda really late Sunday night. Yet, I was still wired and wide awake after the 28-hour journey despite knowing that I had to be up in less than 5 hours for the morning briefing. Lying in bed in Kampala, too tired to fall asleep, I couldn't help but contempl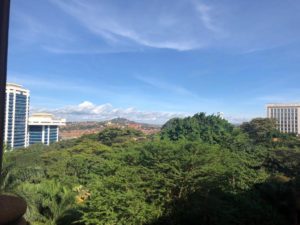 ate what the next two weeks will bring.
I am honored and excited to be part of this HRSA-PEPFAR (President's Emergency Plan For AIDS Relief) pilot program that is bringing together best practice experts in HIV care from Ryan White-funded clinics all over the nation and Ugandan healthcare facilities treating people living with HIV in three districts which are lagging behind their countries' measures on HIV viral load suppression in specific populations—children and adolescents, men, and key populations.
Listening to the briefings today at the U.S. Embassy and at the Ministry of Health brought to light the incredibly complicated machinations of how the HIV care is supported throughout this country, an African nation slightly smaller than the state of Colorado. Uganda is divided up into about 130 districts grouped in regions. The Ministry of Health works with numerous U.S. agencies including USAID, CDC, and Department of Defense who in turn have their implementing partners on the ground.
Uganda was the first PEPFAR country to be funded in 2003 and the infrastructure this country has established is impressive. In a short 15 years, Uganda scaled up HIV Antiretroviral Treatment (ART) to just under 1.2 million people, more than the number of patients the U.S. has on treatment despite having similar numbers of people living with HIV in our respective countries. The HIV viral suppression rates in Uganda—the outcome we need to improve the health of those living with HIV, prolong their life to nearly the same as those not having HIV, and prevent sexual transmission to others—  surpass the rates of the U.S.
They have established programs from HIV testing to linkage to care, adherence counseling to scaling up of ART, Mother To Child Transmission (MTCT) prevention to viral load suppression with envious outcomes being reported despite the limited resources, the limited lab testing, and the limited number of healthcare workers—the reliance on peer and community health workers being essential.
The Ugandan Ministry of Health also just launched a national Quality Improvement Initiative focusing on HIV care that has every health facility engaged in QI work overseen by District and Regional Coaches.
So obviously, we began asking ourselves why are we here? Are we really needed?
We were reassured there is much that can be learned from each other in this endeavor. The hope is that we will form alliances and friendships over the next two weeks that will be sustained through virtual contact over the next 4 months to culminate in another site visit at the end of the summer.
At which point, we hope that we have learned from each other valuable lessons and fermented alliances for years to come.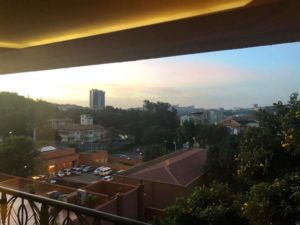 My team leaves for the Nebbi district in northwest Uganda on the border of the Democratic Republic of the Congo at the break of dawn tomorrow. We have an 8 hour drive north from Kampala. It is time to meet the Ugandan clinical teams on the ground and get their perspectives on what they think is happening at their sites and with their patients. I look forward to the privilege of delving deeper into these very rural sites to understand their successes and their challenges.
But for now, it is time to go to bed. I am not sure how any of us will sleep tonight—between the jet lag, the excitement, and the nervousness of not knowing what to expect. Yet, we will all try and I am certain we will complain to each other tomorrow morning about how little any of us did manage to sleep.
I leave you with two pictures from today—one of the morning that greeted me from my hotel window today and the second of the evening when we returned from this wonderful, exciting day walking the corridor back to my room and looking out to the horizon.