Weitzman Weekly
Weitzman Weekly
Spotlight: Facilitation Training with Patti Feeney & Deb Ward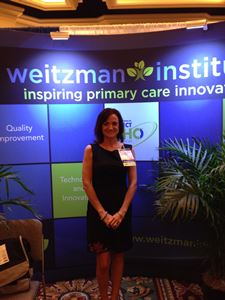 Well-run meetings are important to the workflow of almost all organizations. It is important to recognize that successfully leading a meeting is a skill that needs to be learned. At the Weitzman Institute, Patti Feeney (Senior Quality Improvement Specialist, Trainer and Lean Six Sigma Black Belt) and Deb Ward (Senior Quality Improvement Manager) offer Facilitation Trainings to teach the skills needed to successfully lead meetings. In one day, participants undergo hands-on learning through practice and some didactic. In a conversation with Patti and Deb, I learned about how these trainings started, successes and obstacles of developing the program, and what the two ladies hope to see in the future for the program. 
What is facilitation training? Facilitation trainings occur in one day and are scheduled with back-to-back practice and simulations that help participants learn how to successfully lead a meeting. In preparation for training day, all participants are highly encouraged to go through an online pre-training. This pre-training is important because it allows participants to be ready to go as soon as the in-person training occurs. The goals of the in-person training are to educate participants on how to be better listeners, work and interact with people in their meetings, and balance delivery of meeting content with involving participants in meetings. After training, participants are expected to have someone observe them leading a meeting. The observer would provide constructive criticism and praise at the end of the meeting. This part ensures that participants get real-world practice and feedback for the skills that they just acquired.
Where did the idea come from? The quality improvement team at Weitzman started this program over two years ago after realizing that many microsystem coaches were struggling to lead efficient meetings. The trainings are inspired by a very similar training that is offered at one of the Veteran Affairs hospitals. Deb and Patti took on the task of implementing it at CHC starting with microsystem coaches and expanding it every year to include others. Until recently, participants were all internal to CHC and ranged from nurses to providers to residents. Participants are referred to the program by their supervisor for professional development of  their work at  Community Health Center, Inc. (CHC).
Why has the program expanded and gotten so popular recently? At the December, 2014 training , Patti and Deb taught the course to external (as well as internal) participants. The participants external to CHC came from the Community Health Network. The expansion of the program outside of the organization is one indicator that the program is gaining momentum and popularity. However, even within the organization, there is more demand for the program. Classes are quickly filled and there is even a waiting list to get into the training. Both Patti and Deb attribute the growth and popularity to two reasons. The first is that leaders and supervisors are starting to see the benefits of the training and are encouraging more of their staff members to participate. A second reason is that past participants are advising their peers and co-workers to take the course. The first-hand experience with how the training works coupled with spreading information through word-of-mouth has also played a pivotal role in increasing the demand for the trainings.
What is the future of this program? With the momentum of the program, both Patti and Deb are optimistic about the future of the program. They are always looking to improve the training and recently, they have even talked about expanding the program through technology. Both ladies mentioned the rise in meetings that are held via videoconferencing at CHC. Therefore, it makes logical sense to expand the training to teach how to lead successful web meetings. This is a course that has been asked for by many past participants so the demand is there. In addition, past participants are also asking for short refresher classes that may be helpful to keep their skills sharp. The ladies conclude that tailoring to the participants is their priority so any expansions or changes will be implemented to achieve that. Facilitation Training is a program that is becoming an important part of Weitzman's many quality improvement initiatives. The next training is February 20th and there are still a few open spots. If you have any questions about the training or if you want to participate, please contact Patti Feeney ([email protected]).
Cheers and enjoy this comic 🙂