Successfully Helping Patients Manage their Diabetes and Take Ownership of their Health!
Successfully Helping Patients Manage their Diabetes and Take Ownership of their Health!
The Danbury Community Health Center has implemented a new way to assist patients with managing their chronic disease and improve their overall health- Shared Medical Visits. The goal of these shared medical visits is to improve patient outcomes by empowering them to take ownership of their health.
Currently, the shared medical visits occur quarterly and focus on diabetes management. They provide diabetic patients the opportunity to engage with other diabetic patients, medical providers, behavioral health clinicians, dietitians, nurses, and guest experts in a group setting to learn ways to better manage their diabetes.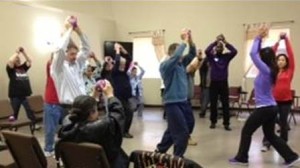 These shared medical visits include open discussions, opportunities to learn about diabetes, goal setting for better health, nutritional education, and fitness tips. During the visits, medical staff provides tools for patients to better understand factors and their consequential impact on diabetes such as their A1C, body mass index (BMI), and HDL and LDL cholesterol levels. The group also works to with patients to help improve these factors, this year the shared medical visits have included visits to the local Danbury Farmer's Market to educate patients of fresh foods available in season and their preparation.
Many patients had never been to the market before and were unaware of the doubled SNAP benefits available at there, which makes shopping more economical and healthy. To further encourage cost-effective, healthy eating, shared medical visits also include cooking demonstrations and ways to use coupons at local grocery stores. Alongside eating habits weight also often affects diabetes so shared medical visits promote fitness through exercise demonstrations and routines that are easy to do. Finally, to provide additional support, behavioral health clinicians facilitate discussions for patients to set goals and practice healthy coping mechanisms to improve patients' overall health. The success of our shared medical visits comes from the combination of a committed team and patients who are willing to express their concerns and discuss progress and struggles in a safe and supported environment.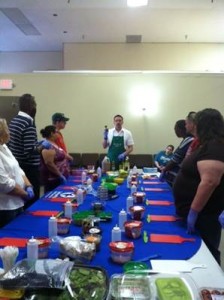 Shared medical visits' holistic approach to manage diabetes has encouraged patients to take steps towards better health as evident by patients' weight loss, lower A1C and BMI. Furthermore, the patients feel supported and more confident to proactively improve their health.
Thanks to the Danbury Microsystems team for this post