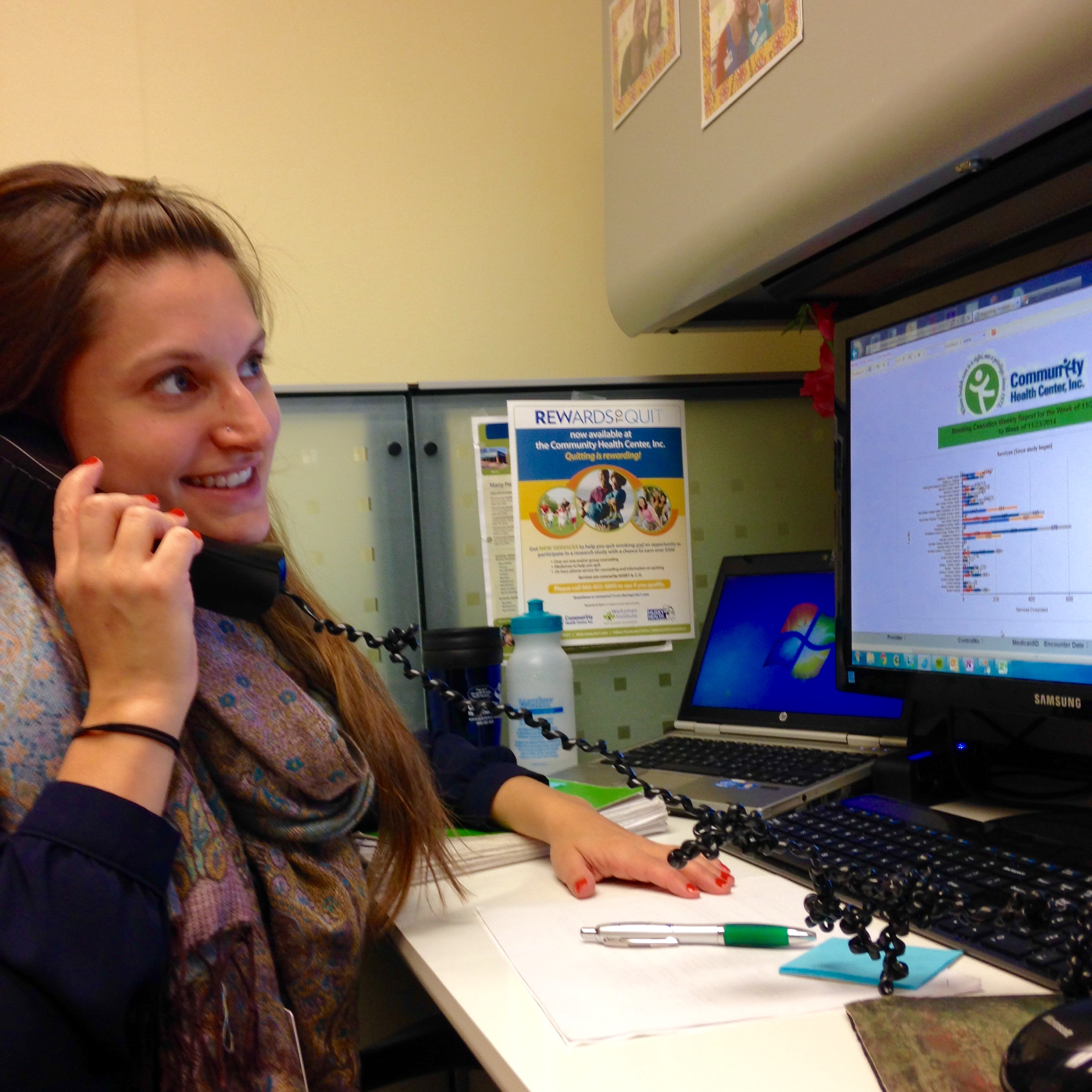 Weitzman Weekly
Weitzman Weekly
Weitzman Weekly
Spotlight: Rewards to Quit (R2Q) w/ Carlee Clarino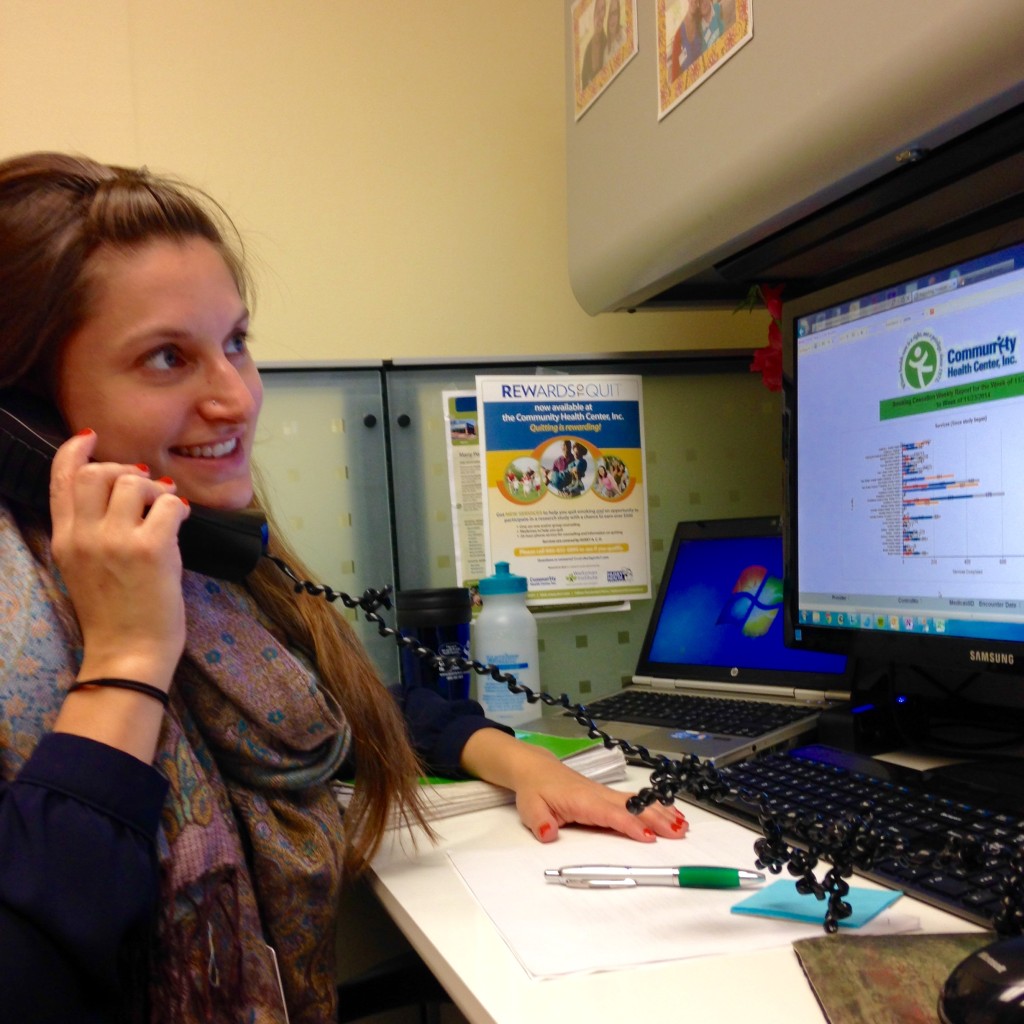 Despite the grave health risks that come with smoking cigarettes, some smokers cannot seem to quit. In an attempt to help people quit, staff members in the various Community Health Center, Inc. (CHC) sites have been, and continue to, enrolling patients into a study called Rewards to Quit. The study, often referred to as R2Q, provides eligible participants with access to services (such as group therapy, Quit Hotline, nicotine replacement therapy, etc.) to help them quit smoking. For half of the participants, they are given an extra incentive to quit smoking by earning money for every service that they attend or participate in. This program has been widely spread among the patient population at CHC under the leadership of Carlee Clarino. Carlee started as an AmeriCorps member before joining the Weitzman Institute (WI) as a research assistant. This week, I talked to Carlee to learn more about her role and her vision for the R2Q at CHC.  
My Phuong Tong: How did Rewards to Quit start at CHC?
Carlee Clarino: Enrollment into R2Q actually started shortly after I finished my AmeriCorps year in 2013. We started enrolling patients into the study in October 2013 but my role in the program started early August of that year with all the preparatory work that would ensure the program's sustainability at CHC.
MP.T: Can you tell me more about the prep work that you had to do?
C.C: Essentially, before CHC implemented R2Q, there was little federal aid for smokers who were interested in programs or medications that would help them quit smoking. A large part of my job early on involved implementing smoking counseling at the health center- in groups and individually. I organized trainings for all clinical staff so they could better prescribe meds, recommend nicotine replacement, offer motivational techniques to help patients quit, and run effective smoking groups.
In addition, before the program was implemented state-wide, the meds and nicotine replacement were not covered. I am proud to say that through R2Q, we are now able to provide eligible patients with smoking cessation counseling and medications, free of charge. By removing this monetary obstacle to smoking cessation, I think we have really given smokers who want to quit a much better chance at success.
MP.T: That's great! Please expand on the monetary burden. How much do these services normally cost?
C.C: To give you an idea, the medication that we provide patients cost from $200-300 for a pack of 56 and nicotine replacement therapy – aka nicotine patches – can cost from $20-40 for a pack of only 14 patches. In addition, the behavioral therapy service provided to patients for free under R2Q can cost up to $335. These things add up and when your annual income is a little over $11,000 a year (poverty level) then it becomes a huge burden. That is why it is so beneficial for patients to enroll in this study even if they don't get the extra monetary incentive.
MP.T: To date, how successful has CHC been at actually getting patients to enroll in the study and participate in the program?
C.C: We actually have done quite well in terms of enrolling patients. My most recent data shows that CHC has enrolled 830 patients of the 2,052 total patients enrolled in Connecticut. That is a respectable 40% of total patients enrolled in this study! I would attribute our success to the fact that staff members, other than medical care providers, are enrolling the patients. This allows patients to sign up for the program without having time taken out of their medical visit. I think this is a huge part of what makes the program successful here because WI staff and AmeriCorps run the research/program management side and clinical staff can focus on providing care!
A lot of patients were enrolled earlier on in study but recently, this year's AmeriCorps members have started blitz weeks that have really helped increase the numbers of patients learning about and enrolling in the study.
MP.T: What are these blitz weeks that you mention?
C.C: Essentially, the AmeriCorps members have been encouraging clinical staff to refer patients who smoke to the AmeriCorps-run table that is stationed in the waiting room. At the table, patients learn more about the smoking cessation services and incentives. The referrals have worked wonderfully because they come from people whom patients trust and respect. For that reason, the AmeriCorps members have been able to enroll a large number of patients in the course of a week. The idea was created by some very engaged staff member in Fairfield County but the process is completely AmeriCorps driven and has given R2Q the rejuvenation that it needs.
MP.T: It seems like you have accomplished a lot through this program. How do you feel about the program today?
C.C: I am really proud to be part of this great project. It has been a rewarding experience for me getting to  work on research that can affect policy for our prominent Medicaid smokers, to help smokers quit smoking and to see people's lives being improved as a result. I cannot tell you how many times I have been thanked by people for providing this service and helping them quit. I think it is easy to forget that smoking is an addiction that warrants medical assistance and attention. My involvement in R2Q has opened my eyes to the way that our healthcare system can help patients stop smoking and empower them to stay smoke-free.
MP.T: What would you say is the most memorable experience you've had while doing R2Q?
C.C: I remember one time when I was enrolling a mother into the study who was a heavy and chronic smoker. I asked her how many cigarettes she smoked a day and was shocked when she said three packs! For those who don't know, that is 60 cigarettes a day. I couldn't help but ask her why she chose today to try and quit smoking again. She smiled as her eyes started tearing up and she told me she wanted to see her children grow up and be there for them. In that moment, I was reminded of the fact that we are all involved in this program because the cost of smoking was not only affecting the patient's wallet and health, but also the lives of their loved ones. It reaffirmed my early beliefs regarding the importance of having a program like R2Q at CHC.
In this interview, Carlee was able to give us a brief explanation of the Rewards to Quit program at CHC. This program is continuing to grow at CHC and there have been a few changes to the nature of the study. If you would like more information about the program, please contact Carlee ([email protected]).
Cheers and enjoy this comic 🙂