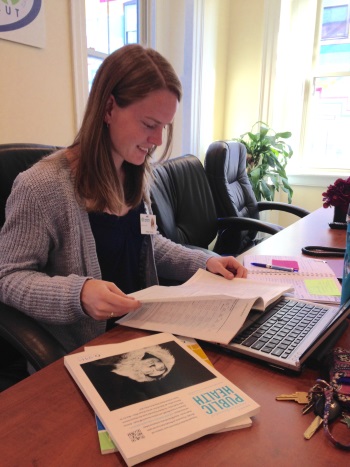 Weitzman Weekly
Weitzman Weekly
Spotlight: Journal Club
So you've heard of book clubs but what about journal clubs? Earlier this year, the Weitzman Institute's Director of Research and Evaluation, Ianita Zlateva started a journal club for Community Health Center, Inc. Journal Club has been ramping up since its official start in early August. I sat down with Bridget Teevan, the current coordinator of Journal Club to learn more.
My Phuong: What is journal club?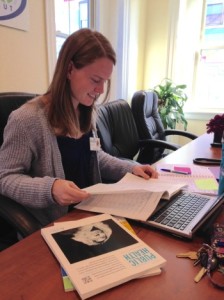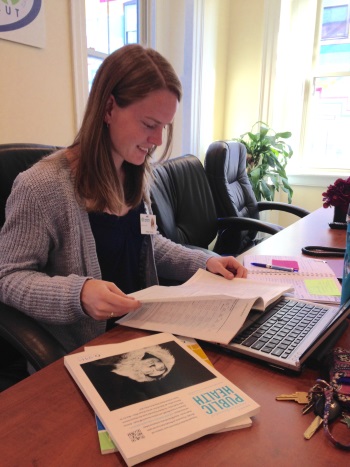 Bridget: Journal Club is a monthly gathering that occurs through video-conference line. Each month, a different leader picks an interesting article related to community health, research, or quality improvement for the group to read and discuss. We talk about the article to see how we can apply its ideas or methods to improve the quality of care given by CHC.
My Phuong: When and how did it start?
Bridget: The initiative started early this summer. Originally, the project was tested on staff at Weitzman in order to sort through the logistics of a monthly journal club. After we worked out some of the problems, we opened Journal Club to the organization starting in August.  I think Ianita started Journal Club in the hope that it will foster growth among the CHC staff.
My Phuong: What exactly is your role in Journal Club?
Bridget: As the coordinator, I ask for volunteers to present articles then look over the article to make sure that it is appropriate before sending out invites and reminders to potential attendees. Essentially, I take care of the logistics so that there can be a Journal Club meeting every month.
My Phuong: Who can participate in Journal Club?
Bridget: We encourage any and all CHC staff members to try and attend at least one Journal Club meeting. There are agency-wide email invites that prospective participants can accept in order to video-conference in to the meeting. Even if you have not read the article, we still encourage you to listen in and learn or share related experiences.
In addition, anyone at CHC can lead Journal Club. All you have to do is email me (Bridget Teevan, [email protected]) an article to share with the rest of the organization and I can help you get ready for leading the next Journal Club.
My Phuong: What should CHC staff expect to see from Journal Club in the future?
Bridget: We are always looking to improve the way Journal Club is run to make it easier and more accessible to CHC staff. In the future, we are hoping to record Journal Clubs and post the videos online so that staff with schedule conflicts can still be involved with Journal Club. In addition, we are thinking of "hosting" Journal Club at different sites so that the staff at those sites can attend live rather than via Zoom or phone call. If anyone at CHC has any other suggestions please feel free to contact me.
That was my interview with Bridget Teevan. I encourage all CHC staff to attend the next Journal Club meeting taking place November 5th from 12-1PM. I have the honor of leading the next Journal Club meeting and am extremely excited to share an article I found. CHC staff should look out for an email from Bridget with the invite to the event and the article attached. Feel free to reach out to Bridget or I if you want us to make sure that you get that email! If you are not from CHC and would like help starting a journal club, please contact Bridget or I.
For CHC staff, we hope to see or hear from you at the next Journal Club meeting.
Cheers and enjoy this comic 🙂