Food Day 2014, Join us for the Apple Crunch!
Food Day 2014, Join us for the Apple Crunch!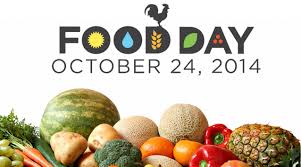 Friday October 24th is the 4th annual National Food Day!  It is a day that encourages Americans to eat healthier by inspiring changes in their own diets and the country's food policies.  Thousands of events around the country to bring people together to celebrate and enjoy real food.
To commemorate Food Day this year Community Health Center, Inc. is participating in the 'Apple Crunch!'  It is a fun event taking place across the country in which the individuals all come together to take a 'crunch' from an apple simultaneously. We hope this will get a large turn out and spark the conversation on healthy eating!
Here at CHC our employees will bring in apples and we will provide apples for our patients so everyone can participate! Eight of our sites will be celebrating Food Day with hosts at each to provide nutrition information for the patients and keep the enthusiasm level up!
If you want to join us to support the Food Day efforts crunch an apple at 11:30 AM and share it! You can show us your pledge on twitter, at #CHCFOODDAY and other statewide and national hashtags: #EatRightCT #CTAppleCrunch #FoodDay2014 and #RealFoodJustFood!
For more info on the statewide apple crunch visit Connecticut's own: http://www.eatrightct.org/applecrunch#.
To host the event various area organizations have donated apples for the patients including Price Chopper, Rogers Orchards, ShopRite, Danbury's Farmers Market, and Big Y. We thank them all for their efforts to help us encourage Americans to participate in our part of National Food Day!