Mad Hatter's Testing Party: Highlights & Gratitude
Mad Hatter's Testing Party: Highlights & Gratitude
Below is a blog post written by Doug Janssen, the Ryan White Program Outreach Coordinator of the Community Health Center, Inc. Doug was an influential member of both the planning and volunteer team efforts for this event and along with his passion for serving the community, his spirit is what made this event so unique and special. There was a wide variety of support for the Mad Hatter's Testing Party and we thank all those who supported, attended and plan to come next year!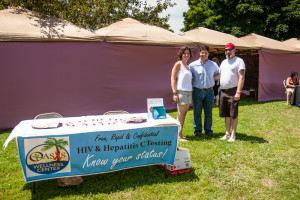 First and foremost I want to thank Yasemin Kyutu for her planning and execution of this event. The event was amazing and so much more than I expected for our first year.  The Americorps folks were very energetic with ideas and suggestions as we went along and ran the tie dye event, for which I am eternally grateful. The park setting lent itself perfectly for our needs and looked totally amazing with the signs and the pink flamingos.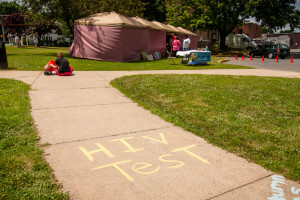 Walt's tent creation was very professional looking and, likewise, was perfect for our testing needs. I'm not sure how he came up with the idea he did with the fabric, etc… but it was great.  Just great.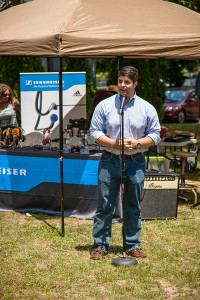 Yasemin and I met with and tested Mayor Dan Drew on Thursday prior so he would be familiar with the rapid tests when he spoke at the testing event.  He was our first speaker and we were honored to have him attend. Special thanks to the CHC testing & outreach team. Lauren Janas-Muraviov, and Natalena Fantozzi were our two main testers along with support from Michael Lauro.  With our ACA superstars, Shannon Bali, Stefan Kostolitz and Marianne Martinez running the show, and the two MAs doing the testing for CHC, things ran very smoothly.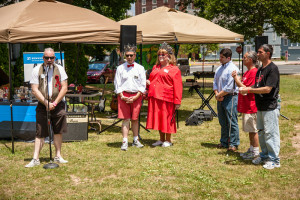 The Empress Morgana Deluxe (Michael Morgan) and Emperor Trevor Reynolds of the Imperial Sovereign Court of All Connecticut made an appearance and both spoke immediately following the Mayor on the importance of testing.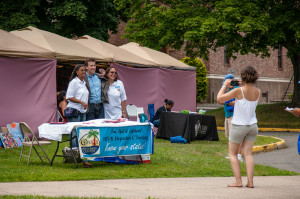 State Rep Matt Lesser attended and actually agreed to be tested for both HIV and Hepatitis C.  He also said a few words to the attendees. In addition to the amazing vendors and band, our own Vinnie's Jump & Jive performed a few group routines in the hip hop or Zumba category, which were lively and well received.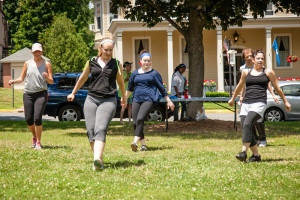 Not only did we have on hand many of our own testing volunteers, two testers from Latino Community Services came to help as did five from an organization called COPE, which specializes in testing and outreach in the area of Hepatitis C.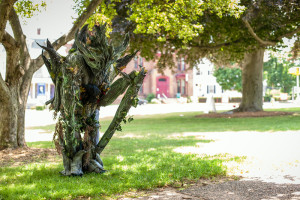 One of the many highlights of the arts fair was a surprise visit from a tree like creature that seemed to capture everyone's attention, adults and children alike. The food venders were totally amazing!  I love Mamoons and had the BEST baba ganuj wrap ever!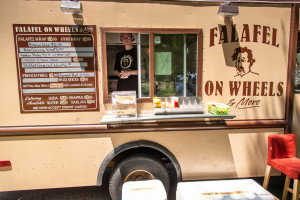 We administered double the number of HIV tests we administered last year (30 total) and 40 Hepatitis C tests, which was totally amazing!  The guy from COPE that does outreach is very good at what he does.  He specifically makes it his goal to get all the vendors at events like this to get tested.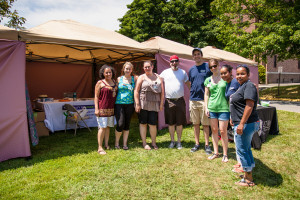 Very happy to have the State of CT, Dept of Health as a joint sponsor to this event.  They donated all the Hepatitis C rapid tests we used that day and put me in communication with COPE.  Thank you to Andrea Lombard!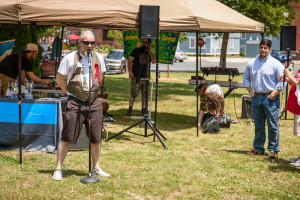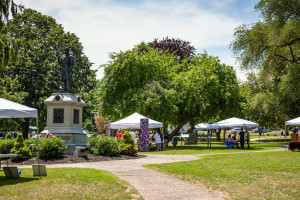 Last but not least, thank you to Kasey Harding Wheeler for suggesting that we take our testing event outside, schedule it on a different date and time, and make it a real event as opposed to just providing free testing somewhere.