Vinnie's Jump and Jive – Bidding Farewell to Josh Van Vliet
Vinnie's Jump and Jive – Bidding Farewell to Josh Van Vliet
"I have heard so many times people say they love dancing at Vinnie's because of the friendly, welcoming, inclusive community. That's what it's all about. The connections, relationships, and community that form through dancing are amazing. Social dance helps people connect in such a profound way, and one of my favorite parts of this work has been to help people connect through dance. "
–          Josh Van Vliet, Program Coordinator for Vinnie's Jump and Jive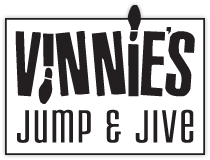 Since 2000, Vinnie's Jump and Jive has been promoting healthy living and social dancing in the greater Middletown area. On Friday, April 26th, 2013, Vinnie's said goodbye to Program Coordinator Josh Van Vliet, who is heading off to pursue another of life's adventures. Both the Vinnie's and CHC communities are sad to see Josh go but are grateful for the impact that he's had on the wonderful little dance studio located at 424 Main Street.
Josh started at Vinnie's Jump and Jive a year ago and came in with some great aspirations for the studio. Vinnie's offers people a unique experience, as the idea of developing the community is paramount to its mission. Among the programming that Josh has put in place is a new Hip Hop class for adults, a Tap Technique class for beginning tappers, and a Civil War Era Dance class for historical dance buffs. He's also hosted special events and workshops in disciplines such as the Argentine Tango, Blues Dance, Hoop Dance, the Waltz, and 80's dance (in conjunction with One Book Middletown) and has put on Regency Tea Dances, Salsa Socials, and monthly swing and blues get-togethers.
Of all of these great efforts, Josh has expressed special interest in the swing and blues community at Vinnie's. He first took a Vinnie's swing dance class in 2006 and hasn't looked back since. Attendance at his blues dances in the last year has been impressive to say the least, with monthly totals doubling during Josh's tenure. There was even one night where 79 people attended a blues dance, an incredible number considering the relatively compact space inside the venue. Though we're sure Josh will miss the swing and blues events at Vinnie's, past, present, and future attendees are undoubtedly very appreciative for the work he has done to improve these monthly events.

Anna Rogers will be taking over for Josh at Vinnie's, and he's sure she'll do a great job moving forwards. Again, we wish Josh nothing but the best in his future endeavors and we look forward to Vinnie's continued growth as a community dance studio.
For more information on Vinnie's Jump and Jive, click here. http://www.vinniesjumpandjive.com/index.php