An Update on Give Kids A Smile!
An Update on Give Kids A Smile!
Below you'll find a post written by Kiran Narain, a HealthCorps Navigator serving in CHC's Mobile Dental Program. She provides us with a quick update on the Give Kids A Smile events that are taking place at CHC sites across Connecticut.
     Give Kids A Smile is an annual program sponsored by the American Dental Association (ADA) and its goal is to improve the oral health of underinsured and uninsured children in the United States.   The national Give Kids A Smile day is on the first Friday of every February, and thousands of dental teams participate across the country.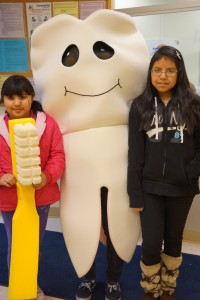 In the city of New Britain, Dr. Fred Thal accepted the proclamation from Mayor Tim O'Brien on behalf of the participating dentists.  As far as CHC goes, our site in Meriden hosted their Give Kids A Smile events on Feb. 1st and Feb. 2nd, and our Old Saybrook site held their event on the 1st. Friday the 1st, went well in both locations, as children were seen throughout day.  On Feb. 2nd, Dr. Hergott and other collaborating community dentists were at the Mericare dental clinic in Meriden to donate their services and time. Dr. Hergott was presented with a plaque from the Mayor of Meriden in honor of his 10th year participating in Give Kids A Smile with CHC, a fantastic achievement that we are very pleased to recognize.
      It really took a great deal of teamwork to put on these events, as receptionists, care coordinators, dentists, hygienists and assistants had to join forces in providing services to the children who needed the most care.  To ease the anxiety that some children may have had in visiting the dentist, a few of CHC's HealthCorps Navigators were on hand to paint faces and to wear the oversized tooth costume, which was a big hit with the children in attendance. So many of the families who brought their kids were beyond grateful and many children were returning from previous years.  In the two days in Meriden, a total of 75 children people were seen. There were 6 participating dentists, 2 hygienists, 5 dental assistants, and 6 administrative/support staff, all of whom were critical in making the event possible.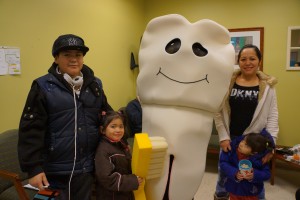 The month of February is National Children's Oral Health Month, and the CHC sites in New Britain, Middletown, New London, Norwalk and Stamford – in addition to collaborating community dentists – will be putting on additional Give Kids A Smile events throughout the month. For a listing of when those events will be taking place, please follow this link! http://chc1.com/News/Events.html