National Day of Service – Habitat for Humanity
National Day of Service – Habitat for Humanity
"Everybody can be great … because anybody can serve. You don't have to have a college degree to serve. You don't have to make your subject and verb agree to serve. You only need a heart full of grace, a soul generated by love."
These words – uttered by the great Dr. Martin Luther King, Jr. – are at once inspiring and humbling in the most positive way. Yesterday, January 21st, 2013, we celebrated the life and contributions of Dr. King, whose impact on social justice and equality in the United States remains paramount in the continued shaping of our nation.
Another notable event also took place yesterday, as President Barack Obama was sworn in for a second term as Commander-in-Chief of the United States of America. Considering the dual importance of this date in time, President Obama encouraged the American people to partake in a National Day of Service this past Saturday, January 19th, to commemorate the service-based ideals of Dr. King himself.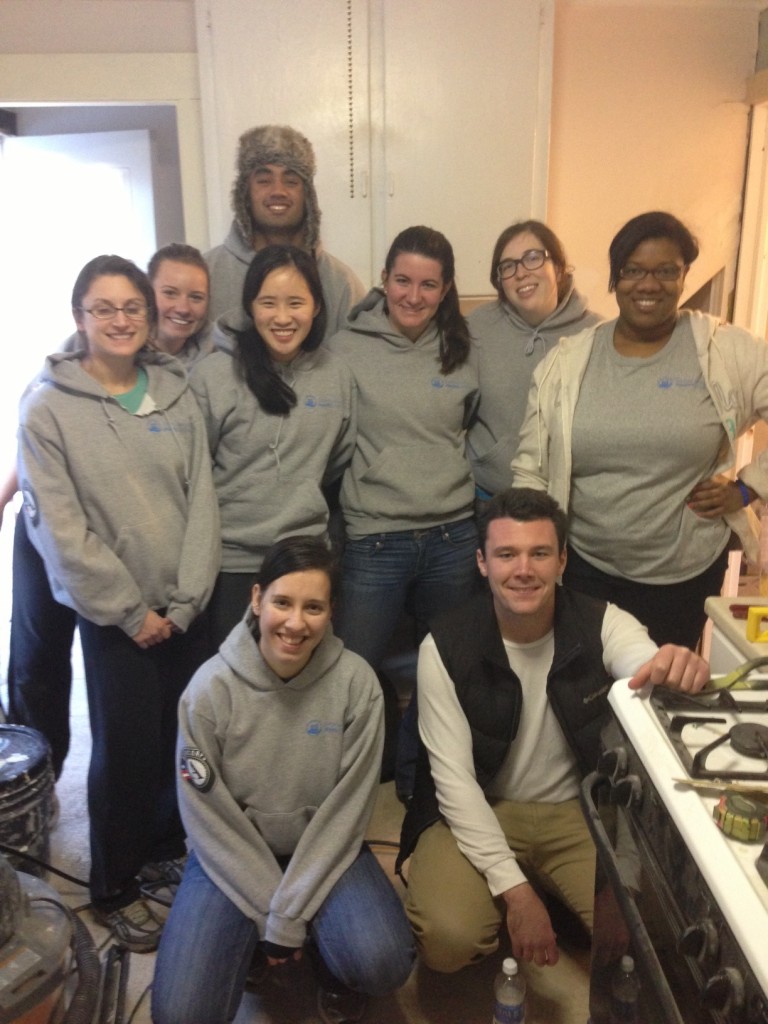 Our HealthCorps Navigators at CHC joined in on the community service efforts taking place across the country on Saturday, engaging in several projects through the local chapter of Habitat for Humanity. Half of us went to a Habitat site in Middletown, where we helped in the renovation of a kitchen and in the cleaning out of a basement. The rest of our group went to a ReStore in nearby Cromwell, where used furniture and all sorts of home furnishings are sold at greatly reduced rates. All proceeds from sales at ReStore locations go directly to funding for Habitat for Humanity projects, and our Navigators helped build a display cabinet for on-sale appliances to be stored in.
The day started at 8:30, when all of us Navigators convened at the current Habitat project in Middletown, where we were told the background story behind the property and how the organization had gotten involved. The building is a two-family house, and several generations of the same family live in both portions of the home. The eldest member of the family, a great-grandmother to the youngest residents of the house, is now limited to a wheelchair and needs to live on the first floor. The only problem is that the building is not handicapped-friendly, so Habitat was brought in to restore the first floor living space that the woman intends to live in and to make it fully accessible by wheelchair.
Once we got the basic safety training covered, half of us set to work re-tiling some of floor, putting borders on the newly-expanded doorways, and demolishing an old kitchen cabinet before putting a new one in its place. The rest of our group headed to Cromwell, where they learned more about the role that ReStore sites play in supporting Habitat projects and helped build the massive display piece mentioned above. After they were done in Cromwell, our fellow Navigators returned to the house the rest of us were working on and started painting a few of the walls. By day's end, the impact we had made at the site was quite tangible, and it was an awesome feeling knowing we had helped a great organization on a tough project.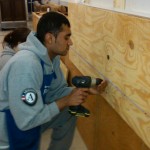 I don't think any of us would have traded a few extra hours of sleep on a Saturday morning for the opportunity we had to make a difference, and we look forward to working with Habitat for Humanity again in the near future. Special thanks go out to Curtis Weybright, the Project Coordinator of Middlesex Habitat for Humanity, who welcomed us with open arms and helped us considerably this past weekend. Here's hoping that all of those who engaged in service projects had memorable experiences, and that we can continue to set a trend of helping others day after day, year after year.
Want to learn more about the National Day of Service? Use this link… http://www.2013pic.org/service
For more information about Habitat for Humanity, learn more here… http://www.habitat.org/