Help-Portrait 2012 Middletown – Follow Up
Help-Portrait 2012 Middletown – Follow Up
Smiles were in abundance this past Saturday at CHC, as a number of our HealthCorps Navigators and several staff members hosted the health center's inaugural Help-Portrait event. Members of the Middletown community were invited to 675 Main Street, where high-quality portraits were taken – entirely free of charge – between 10am and 4pm. We were fortunate enough to have two photographers – Jesse Goldman and Daniel Robles – who volunteered their expertise throughout the day, and the result was sixty-six (66!) people having their photograph taken over six hours. Everyone seemed to be content with how their sessions had gone with the photographers, and especially excited to see the final copies of their portraits in the near future.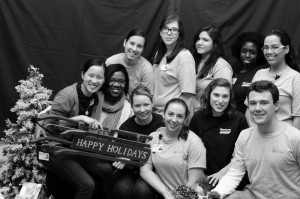 Going into the event, we had no idea of how many people would show up for Help-Portrait. As it turns out, the number of people who attended was perfectly manageable and we could not have imagined it going more smoothly. No one had to wait more than 15 minutes to be photographed, and the options of black-and-white or color gave members of the community a real say in how their portraits would ultimately look. There are numerous stories that come from such a positive and uplifting event, and below is just one example of a great scene that unfolded at CHC's first Help-Portrait.
About halfway through the day, a young woman entered the health center with an older man and woman in tow. She asked one of the volunteers in our reception area where the portraits were being offered, though the man that was with her seemed less than thrilled. She then turned to the older couple, who we later learned were her parents visiting from out of the country, and conversed briefly with them in Spanish.
A few minutes later, the three of them entered the room where registration was taking place, and proceeded into the room designated for photography when given the go-ahead. In her quick discussion with her parents, the young woman had convinced them to take a few photographs with her, several copies of which she hoped they would take with them to show other relatives in their home country. Her father was now smiling, happy about the idea of having such a wonderful portrait of his family.
Experiences like this are what make events like Help-Portrait so worthwhile. We knew that if, throughout the whole day, we took a photograph of one person who would not normally have access to such a quality portrait, then we would have made a difference. The fact that we photographed almost 66 people means we helped that many more people leave happier than when they came in.
They do say the best things in life are free, and the feeling that we all had seeing people smile as the holidays approached was – as cliche as it sounds – priceless.
For more information on how you can get involved in Help-Portrait, here is the website www.help-portrait.com. Stay tuned for information about Help-Portrait 2013!