Tyler's First Visit to the New Building
Tyler's First Visit to the New Building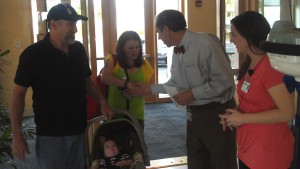 Life has not always been easy for Nicole Dzikiewicz.  Her road to a happy family has taken many twists and turns.  In 2008, she became a patient of CHC at our Meriden office and started seeing Dr. Patel.
"CHC connected me with so many resources."
When she became pregnant, she took part in our Prenatal Program with Dr. Ozbek, Amy Gagliardi, Holly Naud and the prenatal team in Middletown.  It was a high risk pregnancy Nicole worked closely with the team to assure a safe and healthy pregnancy.
"If it weren't for CHC Tyler probably wouldn't be alive today"
Her son, Tyler was delivered by an emergency C-Section and he faced special challenges from his birth.  Nicole praised Dr. Ozbek for being there during the complicated birthing experience.  "She was just amazing and so dedicated".  She speaks warmly of Holly sitting with her at the hospital and of Tyler's smooth transition from hospital discharge to primary care with Ann Eddinger, APRN.
"He's healthy and doing great, we couldn't have done this without all the amazing staff at CHC."
Tyler's father, Steven Warburton also started at CHC Meriden in 2008.  This February, he and Tyler starting seeing Ann Eddinger in Middletown.
"He loves it, they come for visits together, he and his baby with their Nurse Practitioner – it's a family visit and I look forward to coming to Middletown," Nicole said of the wellness visits.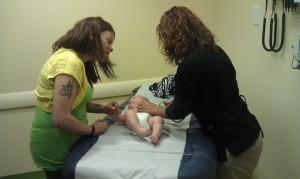 On Monday, May 14th, Tyler came in for his four month wellness visit.  He was the first patient to be seen in our new building at 675 Main St in Middletown, CT.  Nicole commented on how much better the parking is at the new building, how nice the waiting areas look and how comfortable the exam room is.  Tyler show his reactions with some nice smiles added to a report from the medical assistant that he's showing healthy growth.
It's been a long road for Nicole and her family, as it has been in many ways for CHC.  For Nicole, Tyler represents the hope for a happy future.  The new building represents the hope for a happy future for so many involved with CHC.  It only seems appropriate that Tyler should be the first patient at our new building.