Community Based Family Wellness
Community Based Family Wellness
A lot of people dislike fire drills, but it is important to be prepared for possible fires.  Likewise, it would be nice if we lived in a world that didn't need community services, but things happen from time to time when we need staff of community based organizations to help us all out.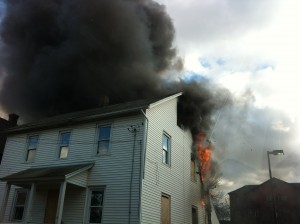 Yesterday, all of this came together when a fire started at 31 Green St in Middletown.  It spread to 29 Green St and people had to be evacuated.   Staff at our Community Based Services on neighboring Ferry Street saw the fire and Daisy Abbott and Magdalena Gierasimczuk rushed over to help people out of nearby buildings into the relative safety of our Community Based Services building.   Louise Moschini and Jim Kelly did a wonderful job of sitting with the families and helping organize them, which brought a nervous situation to a more restful place.  Kids were fed, bottles were warmed, and all were welcomed.  Ultimately that building was evacuated due to smoke, so everyone trekked up to the Family Wellness Center on Main St.
There, some AmeriCorps members provided additional care as well as tea and some Advil.  Other members of staff started working on helping find temporary housing for the families.  A beautiful little girl and boy settled down to their important task.  They lived in a community where people looked out for one another so they quickly settled into playing with the toys.  Yet even this play was an important part of dealing with the event as they played that the building the dolls were in was on fire.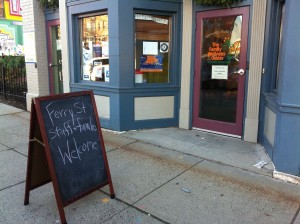 It is great to know that our Community Based Services and Family Wellness Center are available and staffed with great people to help so many of the issues that people face in their daily lives, both big and small.
Note: Thank you to many members of staff who sent me pictures and emails detailing some of the great efforts of Community Based Services and the Family Wellness Center