It Takes a Village…to raise the bar on patient care
It Takes a Village…to raise the bar on patient care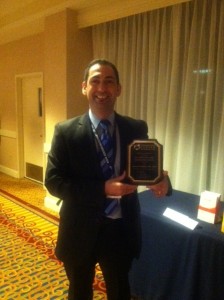 At the 4th annual Primary Care Summit held yesterday in Rocky Hill, CHC's own Dr. Marwan Haddad received the Primary Care Leadership Award. The criteria for the award included mentoring, team medicine, quality improvement, patient safety and advocacy – which, for anyone who knows and has had the pleasure to work with Dr. Haddad, know that he excels in all aspects.
Dr. Haddad was recruited to CHC in 2006 and since then he has not only increased access to care for his HIV and Hepatitis C (HepC) patients in so many critical ways, but he has also engaged his team in cutting edge programs and armed them with a wealth of new knowledge so that they could be better equipped to treat their patients.
Over the last 6 years, Dr. Haddad has been responsible for developing a Suboxone (also known as buprenorphine – a semi-synthetic opioid used to treat opioid addiction) program that is being utilized in many of our sites to reduce the risks opioid addiction poses to both HIV infection and treatment.  Most recently, he co-launched a new initiative, joining CHC with the nationally acclaimed Project ECHO with the University of New Mexico – a cutting edge program that links specialist teams at the UNM with CHC providers to offer ongoing support, consultation and guidance to address challenging cases of HepC.
In his current role as Medical Director of CHC's HIV program, he provides comprehensive care to his HIV, Hepatitis C and opioid dependent patients while mentoring other members of the CHC staff who also treat patients with these conditions.  As a result, CHC patients with these chronic conditions boast clinical outcomes that exceed national benchmarks, particularly in the arena of HIV care. Together with his highly engaged team, Dr. Haddad provides a true patient centered medical home experience for some of the most marginalized patients in Connecticut.
And it is important to note that the "team" referred to throughout this post is held in very high regard by Dr. Haddad as he noted in his acceptance speech…
"I am humbled, overwhelmingly grateful, and honored to be here to receive this award this evening.  Though I am here accepting this award, I do so on behalf of many, many people who have contributed greatly to my personal and professional growth.  Indeed, no man or woman is an island.  The proverb 'It takes a village to raise a child' is true and poignant whether I am in Lesotho or in Connecticut. Of course, in my work at CHC, the 'child' is the health of our communities and my 'village' is the many wonderfully amazing dedicated colleagues and rewarding patients that enrich my life on a daily basis." 
He went on to individually recognize each person at CHC who has supported and energized him over the years, including Daren Anderson, Nwando Olayiwola, Margaret Flinter, Mark Masseli; and of course his fabulous teammates – Kasey Harding, Amanda Swan, Jonathan Arocho, Maria Lorenzo and Sandra Marrero. 
"Without this extended family of support and innovation, there would not be programs at CHC that address the inextricably intertwined co-morbidities of the most medically and socially marginalized people in our society."