Join us in celebrating Patricia Mik, RN, CHC's "Nightingale Award 2011 recipient"
Join us in celebrating Patricia Mik, RN, CHC's "Nightingale Award 2011 recipient"
The following is a message from Mark and Margaret about Patricia Mik, RN, CHC's "Nightingale Award 2011 recipient" 
Thursday evening in the ballroom of the Hartford Marriott, a thousand people gathered for the annual Nightingale Awards for Excellence in Nursing.  The Nightingale Awards ceremony is a collaborative effort, celebrated in four cities across Connecticut simultaneously, to celebrate outstanding nurses.   Mark and I would like you to join us in congratulating Patricia Mik, RN, of our "Wherever You Are" (W.Y.A) Healthcare for the Homeless Program, in receiving the Nightingale Award.  The following is the salute to Patricia that was read as she receives her award: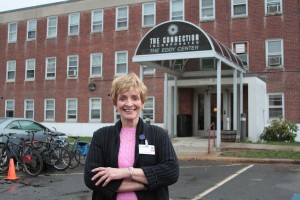 Like Florence Nightingale, Patricia Mik brings her nursing practice to where suffering is greatest.   Connecticut is no Crimea, but in our state, those who are homeless or near homeless suffer greatly from poor health and deprivation.  As the registered nurse for the Community Health Center's "Wherever You Are" Healthcare for the Homeless program,  Patricia brings 40 years of experience in community health nursing to care for patients from newborns to the elderly in homeless shelters, domestic violence shelters, and soup kitchens in Middletown, Meriden, Wallingford and New Britain.  As a member of CHC's "Wherever You Are" health care team, Patricia makes sure that being without a home, does not mean being without the best health care.

A graduate of the St. Francis Hospital School of Nursing, Patricia is a crusader in bringing health care directly to her patients.   As part of a healthcare team that includes physicians, nurse practitioners, outreach workers, and behavioral health specialists, Patricia makes sure that her patients get what they need, from preventive health care to treatment of the most complex chronic illnesses.  Patricia never loses sight of her ultimate goal: ending homelessness, and works tirelessly to make sure that her patients and families will be in the best possible health to achieve that goal.  It is hard to imagine just how challenging it is to practice primary care in shelters, but if you were to walk into one of Pat's primary care clinics, you would find an oasis of clinical excellence and compassion, embodying all of Florence Nightingale's ideals.
Please join us in hearty congratulations to Patricia Mik!
Mark and Margaret