Friday Wrap-Up
Friday Wrap-Up
It is a beautiful Friday afternoon after a long hard week.  It is warm and the sun is shining here in Connecticut after a rainy start to the week.  A lot of our staff have been working long hours this week with the legislative reception Wednesday afternoon and the Annual Meeting of the Nursing Staff last night.  In a few hours, a three day weekend begins and I suspect some people are having difficulty keeping their minds from wandering, just as we struggled to pay attention in school during beautiful spring days years ago.
Yet there is always work still to be done; patients to be seen, research to be completed, and stories to be told.  The stories of people at CHC who have done so much are in the forefront of my thinking right now.  One of the sections of the annual nursing staff meeting last night was called 'Narrative Matters'.  Some of the ideas for this section of the program must have come from the Narrative Matters section of Health Affairs magazine which seeks to bring a policy message from peer-reviewed, personal-essays of firsthand encounters.  The stories were great.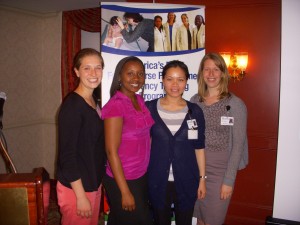 Nurse Practitioner Residents talked of the lessons they had learned at CHC.  They spoke about 'warm-handoffs'; making sure that a patient with behavioral issues were introduced to behavioral health professionals that could help them with these issues.  Nurses spoke about being able to see past the condition or diagnosis to see the real person who was suffering, whether it be a woman struggling to make a better life for herself after fleeing a difficult past, an older man who had never learned to read, and needed help getting his diabetes under control, or a woman trying to kick a heroin habit and stay clean.
While my primary focus is on the great work that CHC is doing here in Connecticut, I feel that I would be remiss if I did not mention the folks at Access Family Care.  They serve the people of Joplin, MO and the surrounding area.  Don McBride is the CEO there, and has a post up today, Finally, a good weather day to manage tornado relief!
Our health center's Board of Directors met last night and Board President, Dr. Al Chapman, expressed his and the board's deep appreciation and gratitude to all employees of ACCESS Family Care for their response and hard work during this disaster. Two board members weren't able to attend since they were still without electricity.

I've centered my reports so much on Joplin, but I need to express my deep appreciation for our dental practices and our medical clinics in Anderson and Cassville. They have kept on ticking without missing a beat and have even freed up staff to help with disaster assistance. Thank you team! You are making a difference and helping us through all of this.

…

Finance Director Sheila Long has been working on arranging employee assistance and setting up funds for employees impacted by the EF5 tornado. Four have lost their homes. Sheila and other finance Department staff attended the state's FEMA meeting yesterday afternoon.

Laura, our single mom of seven children was whisked away from the mass shelter and she is now staying with another one of our single moms, Melissa, in Neosho. Fortunately we have lots of unfinished space in our Joplin clinic and we are using it for our employees to place what they have scavenged from the rubble of their homes. Funds are coming in designated for our patients and employees who have lost their homes. Our homepage has information on where to send donations for this.
In a few hours, I'll leave work to head out to celebrate Memorial Day weekend.  It is important to remember our veterans this weekend and CHC will have a float in the Middletown Memorial Day Parade.  Staff are encouraged to come walk alongside the float.  Besides remembering those who have served defending our freedom, I will remember those in Joplin, MO who are helping with relief efforts.  I will remember our nursing staff who shared such moving narratives at the annual meeting last night, and I will remember the patients whom we are here to serve.
Happy Memorial Day Weekend, everyone.