A Memorial Day to Remember
A Memorial Day to Remember
It started about a month and a half ago, those lunch time meetings to discuss CHC's presence in the 2011 Middletown Memorial Day parade.  Some of the stalwarts who had helped organize parades from years ago were joined by new people from Communications and our AmeriCorps teams.  We bounced around ideas for the float, for t-shirts, and how we could best honor the men and women who served our country defending our freedom, especially, those who gave all.  After exploring many options, the design for the float was finalized and masterfully put together.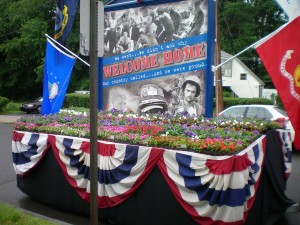 Monday morning finally came, yet it was accompanied by thunderstorms.  At 9:00 AM, the parade organizers needed to make the go/no-go decision.  While the radar showed clear skies for later, they couldn't be sure how long it would take for the thunderstorms to pass, and while our armed forces served in much worse conditions, the organizers had to consider the public safety of all the participants and observers.  The parade was officially cancelled.
Fortunately, the thunderstorms did clear soon, and an "unofficial parade" quickly took shape.  As the Commander of the Council of Veterans commented on the Middletown Press Article,
As far as how the "Unofficial Parade" came about, it started with a few Combat Vietnam Veterans talking after their ceremony on the Veterans Green that even though the Official Parade was cancelled, we should walk down Main Street to the South Green anyway. How the word spread like it did about what we were going to do in unbelievable. It was people that wanted to show their support to us for what we were going to do and to honor us for what we were doing and have done. To them, I say thank you.
The real thanks, of course, goes to the men and women who served.