Medical Assistant Recognition Week 2018
Medical Assistant Recognition Week 2018
October 15-19 is Medical Assistants Recognition Week! Our clinics could not run without our MAs, who room our patients, take vital signs, keep the appointment running smoothly, and much more. CHC currently employs around 100 MAs across all of our sites, and each one is vital to the team-based care that our patients receive.
In addition to these 100 MAs, CHC partnered with the Salud Family Health Centers of Colorado to found NIMAA – the National Institute for Medical Assistant Advancement. NIMAA trains MAs to work as part of an integrated care team in a community health center environment. NIMAA is an innovative model of training; it combines online and in-person training, and has trainees working in the clinic setting at the same time as they learn about theory in the classroom.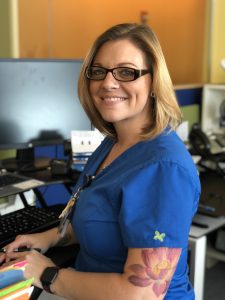 For MAR Week, we spoke to Jenn Deprey. Jenn is an MA at our Middletown location, a NIMAA preceptor, and an alumna of NIMAA's first class of trainees. Jenn began her journey as an MA at a traditional school, completed an externship, and worked as an MA for two years. However, she never sat for the state exam that would allow her to practice in a primary care setting.
"I used NIMAA as a refresher course, per se, to be able to sit for the book exam," she said. "Kind of an upskilling, was really how I like to look at it. Sat for the exam, got certified, became a full time employee here…I just had my one year, and now I'm precepting!"
Jenn's experience at another MA school was a big help in NIMAA's pilot year, as she was able to provide perspective on places where the program could improve.
"I was part of the pilot, so I was able to give them some tips on what worked for the school, what didn't work for the school, what we did in the traditional school, what we didn't do, and kind of help them build the curriculum and how it works."
Now, Jenn is a preceptor, who takes on a NIMAA student and shows them what it's like to work in a clinic. "I love it! It's fun. You get to show somebody different aspects of things, and being in primary care, you see it all. It's not like you're focused on one thing, like in specialties. You see everything."
She continued: "So that's really helpful for them as they're learning through this process, they get a lot of coverage of different things. It's a lot of hands-on. Going from just a book and the thought of it and how it's supposed to go, and then seeing how it actually works. It's helpful. I like being able to steer them in that direction and show them new things."
Jenn says she benefits from the team-based model at CHC, where everyone works in a pod together, from provider to MA. "In any of the other offices I've ever worked in, you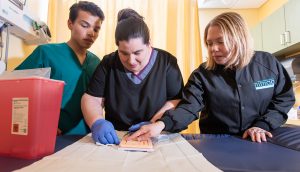 were never a part of the team. There was always the levels of the low man on the totem pole…working in an atmosphere like this, everyone is on the same level. You're on the same playing field. You're all working together."
NIMAA's training model, while fast-paced and challenging, helps get the students into the clinic faster, so that they can learn by experience, not just by the book. Jenn remembers that traditional style as intimidating: "You were learning at the beginning of the 18 months, the clinical stuff, you weren't practicing it – so when you were thrown out for your first set of hours you were like, 'umm…what am I doing?' It's nerve-wracking!" The NIMAA course design takes away a lot of that anxiety, by letting students do the work as they learn about it.
NIMAA has just started its second year, and Jenn had the following advice for the current class, and anyone thinking about pursuing a career as a medical assistant:
"It's a tough course. You have to be driven. You have to want it…You have to be focused," she said. "But it's a great course. It's worth it. It's worth every second of it."
To learn more about NIMAA, click here. To learn more about what a medical assistant does, click here.