National Stalking Awareness Month
National Stalking Awareness Month
Staying Happy, Healthy and Safe in the New Year
As January is Stalking Awareness Month, the team at New Horizons wanted to share important information about stalking, alert you to the signs of stalking, and remind you that we are here to help if you think that you or someone you care about is being stalked.
Stalking is a dangerous and illegal behavior that does not discriminate – men and women of diverse racial and ethnic backgrounds can all fall prey to a stalker.  Although women are more often the victims of stalking, 1 in 4 stalking victims are male.  It is important to know that in 3 out of 4 cases of stalking, the victim knows their stalker; the majority of victims know their stalker on an intimate level.  The vast majority of individuals who are later killed by an intimate partner were stalked by that partner in the year prior to their death.
For all of these reasons, it is essential for your personal safety that you aware of the signs that you are being stalked. Please read below to become aware of the signs, and please reach out to the team at New Horizons if you find that any of the following have happened to you on two or more occasions.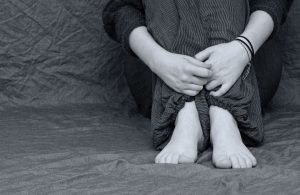 Signs You Are Being Stalked
You are being followed, watched or an individual is showing up wherever you are. This person may or may not make contact with you.
An individual is driving by your home, place of work, or school.
An individual is manipulating situations in an effort to have unwanted contact with you, such as enrolling in classes you are taking, applying for a job where you work, making an appointment at your doctor's office, or joining a club or recreational group that you belong to.
An individual is sending you repeated, unwanted phone calls, notes, emails, messages on social media, text messages or gifts.
An individual damages your property, home or car.
An individual monitors your social media, email, computer use in an effort to learn about you and your personal life.
An individual seeks to obtain information about you utilizing public records, a private investigator, or common acquaintances.
An individual goes through your car, garbage, or other personal property.
Someone is monitoring you using technology such as a hidden camera or GPS system to track your whereabouts.
An individual is threatening you, your family, friends, or pets.
An individual is spreading harmful rumors or publicizes personal information about you.
Safety Measures
Send a clear message that the behavior is unwanted. Ideally, do so with a witness present.
Document all instances of stalking – when you file report with the police this record will be important.
Limit use of social media – especially posts that reveal what you are doing and where you are going.
Protect the anonymity of your children.
Tell others what is happening – friends, family, co-workers and police.
Change passwords and patterns of behavior.
Remember that this is not your fault, and there are people available to help you.
Remember, we are here if you need us.  We wish you a happy, healthy and safe 2018!