Nightingale Award Recognition
Nightingale Award Recognition
By: Mary Blankson, Chief Nursing Officer
Every year during National Nurses' Week we have the opportunity to nominate nurses for the state Nightingale Awards. This year, I have the great honor of sharing that 2 of our nurses are being recognized tonight at the Hartford Nightingale Award Recognition night.
This recognition night was started approximately 17 years ago to celebrate outstanding nurses and elevate the nursing profession. It is a night where the breadth of nursing roles are recognized: specialty, acute, homecare and of course the role that we are so dedicated to, the role of the primary care nurse.
Our First Recipient comes out of our newest site, Hartford. For over 20 years, Carolyn Reading has devoted her career to caring for the children of Hartford (one of the poorest cities in the country for children). Carolyn is well-known not only for her superb nursing skills – attention to detail, knowledge of protocols and procedures, respect and caring for the patient and family – but also for her boundless energy, efficiency, pro-active approach and willingness to go above-and-beyond. Carolyn served for many years as "Resource Nurse" for Hartford's busy urban clinic – leading the team by example, solving problems, and staying late to be sure the job was done right. Carolyn is especially valued by her team members for her nursing expertise in working with adolescents. Over two decades ago, Carolyn saw the need to expand her skills and improve the services delivered in Hartford to teens, to better address problems such as teen pregnancy, sexually transmitted infections, substance abuse and depression in our urban, low income, heavily disadvantaged teen population. Carolyn's non-judgmental approach and ability to connect with adolescents helps teens understand that she can be trusted with their concerns and relied upon to help find solutions. Her skill and sensitivity is especially apparent when caring for Hartford's many teens who have complex medical and psychosocial problems.
Needless to say, she has been and continues to be a huge asset to the team in Hartford—and to the larger CHC team of nurses—I am so excited to have her as a part of the CHC family and to celebrate her across the agency!  Carolyn, thank you for all you do for our kids and for your team! I am hopeful that you will share your expertise as we look to incorporate more pediatric training for all of our nurses to better prepare them for caring for our children with complex needs across the agency!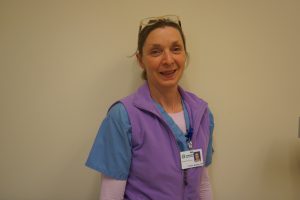 Our second recipient of the night is none other than Sarahi Almonte, our new Nurse Manager for our Middletown site. Sarahi came to Community Health Center, Inc. in 2014 having spent time in a variety of non-nursing settings, including politics and community organizing. So, as a second career nurse, she brings a diverse skill set to our complex primary care environment here at CHC.  Sarahi worked first in our Meriden office as a staff nurse, and then after displaying talents in leadership, she quickly moved into a Nurse Supervisor position in our Bristol office. Most recently she has transitioned into a Nurse Manager role at our flagship site, supporting a diverse group of medical assistants and nurses who provide primary care services, including pediatrics, adult and prenatal care, along with complex care management. She is the "go-to" person for quality improvement activities, including her tireless efforts to focus on improving the overall cultural competency of our staff, along with enhancing teamwork and exploring initiatives to improve nursing retention. She has fully embraced our Complex Care Management program, and is dedicated to supporting other nurses who are developing their skill in this area, even leading a didactic for the nursing staff this coming fall. She has a way of making patients want to take better care of themselves and we have seen a number of uncontrolled hypertensive and diabetic patients committing to taking their medications and making lifestyle changes.  Patients who suffer from anxiety have engaged with behavioral health thanks to Sarahi's engagement and support.  She is a born leader and an amazing team player. Whenever she sees staff that are struggling she reaches out and will do whatever she can to help.  Sarahi, I look forward to continuing to work with you and supporting the hopes and dreams you have for our staff—everything from enhancing how we interact with patients in Complex Care Management, to starting a nurse residency here at CHCI—let's continue to dream big dreams for our nurses here at CHCI!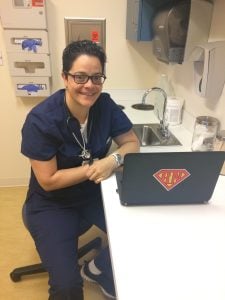 Congratulations to you both—I am so proud!