Maternal and Infant Early Childhood Home Visiting Program
Maternal and Infant Early Childhood Home Visiting Program
Hi everyone- My name is Susan Brule.
Most parents have wondered at one time or another why kids don't come with an instruction booklet.
As program director for CHC's Maternal and Infant Early Childhood Home Visiting Program, I like to say we just might be the next best thing.  I work with new moms or moms-to-be and their significant others in Meriden, Wallingford, Middletown and Waterbury and some small surrounding towns to support the growing family with educational materials, developmental screenings, parent/child activities, community resources, stress management and coping strategies.  All the things moms or mom-to-be and their partners can really use as they greet a new baby in their lives.
I work with four certified parent educators:  Raquel Abbasi, Maria Rosado, Janelly Torres and Dashaun Thomas, and we have worked very hard at becoming a cohesive team. At a recent Parent Connections group, we had eight parents and their little ones.  It was one of our largest groups, and since it was still summer vacation, included several school age children.  We provided lunch and an activity for parents and their kids. The group is a nice way for families to connect and exchange phone numbers to plan play dates. We had some parents who weren't sure about joining a group, but they did anyway. It takes courage to try something new.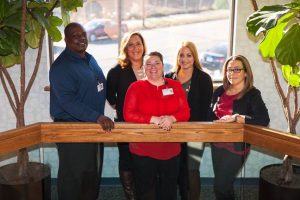 I want to thank the parents and their kids for coming to our group. I'd like to welcome others to join us. I hope you will let me, Raquel, Maria, Janelly and Dashaun help you with the most difficult but most worthwhile job there is—being a parent.