Meet Featured Nurse Bernalda (Bernie) Delgado
Meet Featured Nurse Bernalda (Bernie) Delgado
On a cold, rainy Tuesday I had the opportunity to meet with Nightingale Award recipient Bernie Delgado. The cold and rain didn't seem to matter. When we made our way up to the roof top meeting space at CHC Middletown Headquarters, we both thought the views and freshly budding garden beds were still beautiful.
As we sat down, Bernie began by telling me that she came to CHC in 1999 as a Medical Assistant (MA) at our New Britain location. She spent six years in New Britain, and when she left she was the Senior MA. She then began to work at the School-Based Health Center in New Britain where she worked her way up to Senior MA yet again. During that time, Bernie was working full-time and going to school part-time to become a nurse.
After a lot of hard work and dedication, Bernie received her degree.  She took a position as a nurse at CHC for the WYA (Wherever You Are) Program. The WYA program is made up of a special team that consists of a nurse practitioner, registered nurse, substance abuse counselor, and outreach worker. The team operates small, efficient clinics within six homeless, domestic violence, and transitional shelters in New Britain, Wallingford, Meriden, and Middletown.
The goal of the program is to assess the health needs of every shelter resident, provide prompt treatment for acute problems, update the individual on necessary preventive care such as immunizations and screenings, and then connect the individual with one of our sites for any on-going primary care.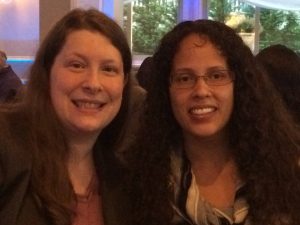 Bernie's schedule is much different from the majority of the nurses at CHC. She spends each day at multiple locations where she sometimes does the job of both the MA and the nurse. The busy schedule doesn't bother her though; she enjoys learning and having the opportunity to try new things.
Although she is supposed to have Friday's off, she finds that there is always work to be done. If she doesn't have any work to catch up on, Bernie will often fill-in at another location if they are down a nurse.  She would rather know she is working and making a difference in a patient's life.
Bernie shared the hardest part of her job is not being able to do anything more for a patient. When I asked her what her favorite part about working at CHC was, her response was instantaneous; she wakes up every morning energized and ready to go to work. She loves working with this population and making a difference in the quality of their lives.
When I asked her to tell me more about the Nightingale Award she recently received, she told me she was shocked to find out she was the recipient. However, after my conversation with her I would have been surprised to hear she didn't get it. Her hard work, passion and dedication to CHC was clear through our entire conversation. She deserved this award, and CHC is so proud of her and her accomplishments!
Fun fact about Bernie: her ultimate goal is to retire here at CHC!