Fruity Fun Skewers
Fruity Fun Skewers
As summer quickly approaches we encourage everyone to eat healthy and be happy!  This weeks Featured recipe is:
Fruity Fun Skewers
Prep time: 15 minutes
Ready in: 15 minutes
Ingredients:
5 large strawberries, halves
1/4 cantaloupe, cut into balls or cubes
2 bananas, peeled and cut into chunks
1 apple, cut into chunks
20 skewers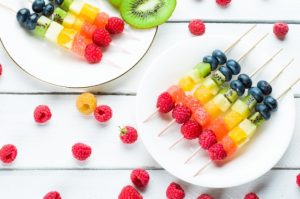 Directions:
Thread the strawberries, cantaloupe, banana and apple pieces alternately onto skewers, placing at least 2 pieces of fruit on each skewer. Arrange the fruit skewers decoratively on a serving platter.
This recipe is from allrecipes.com and can be found at: http://allrecipes.com/recipe/142779/fruity-fun-skewers/