Meet featured physician Marwan Haddad, MD, MPH
Meet featured physician Marwan Haddad, MD, MPH
After a recent conversation with Dr. Haddad I had the pleasure of learning about his fascinating life and the journey that led him to CHC. With much excitement in his voice, Dr. Haddad shared he was born in Lebanon but moved to Athens, Greece where he attended an American school from kindergarten through grade 12. After he graduated high school, he went to Harvard where he received his undergraduate degree in political science. Dr. Haddad then moved to Montreal, Canada where he received his medical degree from McGill University.
Upon the completion of his family medicine residency at the University of Toronto, Dr. Haddad moved to Connecticut and accepted a position as a Primary Care Physician at CHC New Britain. Since he started in 2006, Dr. Haddad, who is now the Medical Director for The Center for Key Populations, has played a crucial role in the development and implementation of a number of projects focused on special populations, such as those who are infected with HIV, with hepatitis C, and those who are dependent on opioids.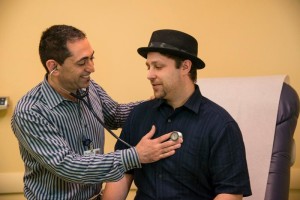 The mission of the Center for Key Populations is to insure the integration of what has traditionally been seen as specialty care into primary care settings and increasing access to such care for those communities that historically have been underserved. Dr. Haddad stressed the importance of this concept. When a patient comes to CHC for a primary care visit they automatically have access to dental services, behavioral health services, and now they can even receive treatment for complex diseases such as HIV and hepatitis C. Patients can go to any of our 13 locations and seamlessly receive the same treatment. CHC patients will always have access to care no matter where they are.
Dr. Haddad is also heavily involved with CHC's Project ECHO (Extension for Community Health Outcomes), a program that provides specialty support for primary care providers seeking to gain expertise in the management of certain complex illnesses and conditions. Project ECHO utilizes didactic and case-based learning via weekly video conferences with medical providers, offering ongoing support, consultation and guidance to aid in delivering care. Dr. Haddad has been responsible for Project ECHO clinics addressing HIV, Hepatitis C, and opioid addiction since their inception at CHC.
During our conversation I asked Dr. Haddad to talk more about CHC's LGBT Initiative. Dr. Haddad shared that he and his team are working to change the culture of CHC to better serve members of the LGBT community. The goal of the initiative is to make sure we're serving the LGBT community in a way that is not only open but accepting as well.
Dr. Haddad shared that CHC will start to collect sexual orientation and gender identity information from all patients. Once we have a better idea of the various populations we serve, we can begin to target prevention, screening, and treatment efforts more respectfully and accurately. As an example, we can begin improving screening rates for various members of the LGBT community who traditionally suffer disproportionately from STIs, depression, and substance abuse than the general population. We can target HIV prevention efforts for those most vulnerable, such as young men who have sex with men. CHC will be training staff members to approach all patients with cultural humility in order to ensure that patients receive the best possible care in a friendly and comfortable environment.
What I loved most about my conversation with Dr. Haddad was when he told me he wakes up excited to go to work every day. He loves knowing he has the opportunity to make sure that patients who have been marginalized come to CHC and feel respected and well taken care of. Dr. Haddad is a leader at CHC who will always have a positive impact on the community, especially special populations.