Meet featured physician Robert Dudley, MD
Meet featured physician Robert Dudley, MD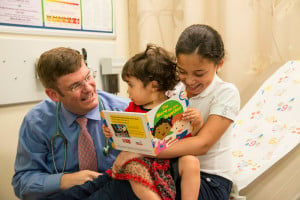 As I was sitting in the lobby waiting for Dr. Dudley, I could see a little boy and his mother heading toward the exit. At around the same time Dr. Dudley walked through the front door and almost immediately the little boy went running over to Dr. Dudley and excitedly showed him a rock he had found. Dr. Dudley took the time to examine the rock and interact with the boy before he and his mother left. In that moment I knew how compassionate and dedicated Dr. Dudley is to CHC, his patients and the community.
Prior to becoming a primary care physician, Dr. Dudley obtained his undergraduate degree from Amherst College and upon graduation he moved to Maine where he spent a year teaching at a local public high school. Dr. Dudley then moved to Pennsylvania where he pursued his medical degree from the University of Pennsylvania. After completing his pediatric residency at the Children's Hospital of Philadelphia, he came to CHC as a National Public Health Scholar. Almost 20 years later he is still here.
Aside from his job at CHC, Dr. Dudley is extremely active in the community. He is a consulting pediatrician at the Klingberg Center Webster House, a facility that houses youth with severe behavioral  and medical health issues in New Britain, CT. Dr. Dudley enjoys his time at the Webster House because of the way it allows him to practice using a integrated care model in a residential setting.
Dr. Dudley is a member of the American Academy of Pediatrics where he is currently the Vice President of the Connecticut Chapter.  He also serves as the District 1 (New England) Facilitator for CATCH (Community Access to Child Health), a grant program that encourages pediatricians to advance the health of children by collaborating with their communities and encouraging medical homes. Dr. Dudley enjoys being a part of CATCH because he gets to see and learn about grants from all over the country. As the grant facilitator, he gets to collaborate with applicants, pick which grants are funded, and see projects come to life. Most exciting are when a project becomes the next 'big thing' in pediatrics.
What really excited Dr. Dudley was when he began to tell me about the community based research he does. Dr. Dudley works on a PhotoVoice project with a group of girls from the YWCA's House of Teens, an afterschool program that promotes a healthy lifestyle. PhotoVoice is a unique project allowing the girls to bring up real issues with powerful photos that impact the community.
In this case teens spend time developing framing questions, and then go out into the community to find answers to the questions by taking photos. After the girls have taken their photos they write a reflection on the photo and explain why they took that particular shot. Each answer is different and it allows people to see each student's point of view.
One question the girls have been asked is "what makes exercising so hard?" One person took a photo of a dumpster and responded with "it's hard to exercise where I live because when I go outside the dumpsters smell so bad I can't stand to be around it."
After all the questions have been answered, the girls combine all of their responses and create a story board using the images and reflections they chose as a group. Once the story board is complete the girls will go out into the community and present on what they found. The girls have had the opportunity to present to policy makers at community events, and most recently, they presented to Erin Stewart, the Mayor of New Britain.
It is presentations like this that make the PhotoVoice so special to the girls and the community.  These girls have already made great changes not only in the community, but in their personal lives as well. I am just as excited as Dr. Dudley to see the journey this project takes them on.