One Direction's Effect on Behavioral Health
One Direction's Effect on Behavioral Health
For millions of teenage girls around the world, it feels like the apocalypse has finally arrived. It was not predicted by the ancient Aztec calendar or by a fantastical preacher. Instead it came from the decision of one young man, Zayn Malik, whose membership in the boy band One Direction has gained him fame and fortune. For 5 years, Zayn and his bandmates have recorded albums, toured the world, and been on the receiving end of unhindered excitement from fans, mostly teenage girls. Love and devotion of this magnitude has not been seen since Paul, John, George, and Ringo headlined the British Invasion in 1964.
This unbridled emotion transformed from adoration to horror and grief when on March 25, Zayn announced that he was leaving One Direction. "I am leaving because I want to be a normal 22 year old who is able to relax and have some private time out of the spotlight." This statement released on the band's Facebook page has caused a tidal wave of emotions to come flooding out of millions of teenage fans. Vines of sobbing fans litter the 'Twittersphere', the hashtag #cut4Zayn or #cutforZayn began to trend, and tweets declaring March 25 the "worst day of the entire week month year decade century" were posted.
For many fans this is their first real experience of grief and loss. While parents may think that their teenager's reaction is over the top, those emotions are real. According to Dannielle Miller, author and educator, "Teenagers are wired to feel emotional and to feel almost obsessive about things, and passionate and impulsive. So it makes sense biologically that they are this entrenched in 1D." Dismissing their feelings as silly or petty is apt to do more harm than good. A parent doesn't need to provide advice but can just validate their child's feelings and be there for them. This moment provides parents a test run of sorts to help their child navigate grief. This may the first deep emotional loss they've felt but it certainly won't be the last. Providing the child with the tools to handle this moment will enable them to be better prepared later in life. After all, Zayn hasn't died. He is making a decision that he feels will be best for his wellbeing. And that is not the end of the world.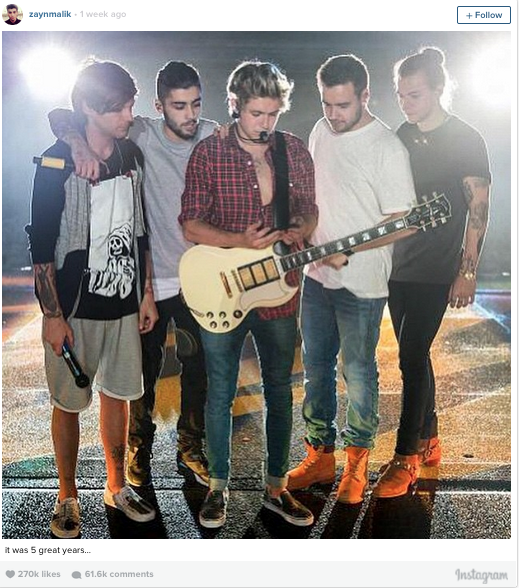 Please see this link to a CNN article that provides more tips about to help your child: http://www.cnn.com/2015/03/26/world/one-direction-zayn-malik/index.html
Additionally, there is a tab on the CHC Blog entitled "SBHC Resources." This has a bunch of helpful resources regarding grief and depression including pictures, quotes, and videos. Other topics include body image and bullying. These resources are appropriate for all ages and can be utilized by parents as well as children. http://community.chc1.com/sbhc-resources/