Kicking Off AmeriCorps Week Giving Back to the Middletown Community
Kicking Off AmeriCorps Week Giving Back to the Middletown Community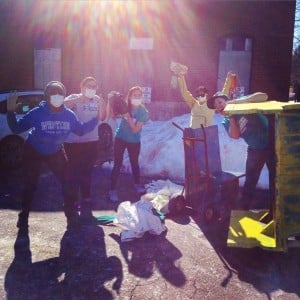 A warm sunny day was the perfect way to kick-off Americorps Week, as CHC's Americorps team took on their first project: the renovation of the Family Wellness Center. In collaboration with the Community Health Center and several other programs in the Middletown community, The Family Wellness Center offers free programs for children and their families. It has been a constant 'home' for many of the families of CHC and of the Middletown Community for more than 25 years, resulting in a lot of wear and tear on the building, toys, and furniture. The Americorps group saw the opportunity to improve upon and update the space in order to make it more welcoming to the already loyal FWC families, as well as more of the Middletown community.
The team separated into two groups—one focused on cleaning and re-organizing the inside of the building, while another focused on sanding and re-painting four of the wood benches that constitute the main furniture of the play-room. It took more than 6 hours, a lot of garbage bags, and even more elbow-grease, but the Family Wellness center is looking better than ever! The space looks clean and streamlined, and the benches will soon be painted to align with CHC's main colors of bright green and orange.
We will soon be planning an 'unveiling' day to show off all of our hard work, and would love for anyone to stop in and check out what we've done! Please keep an eye out for more details on this event!
By KellyAnn Rooney