Weitzman Weekly
Weitzman Weekly
Spotlight: Planned Care Dashboard Evaluation Study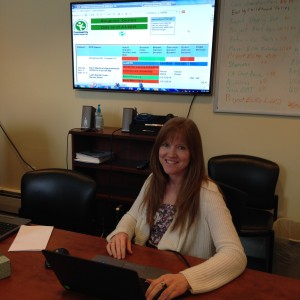 One of the objectives of Community Health Center, Inc's (CHC) Weitzman Institute is to promote the use of innovative technology to improve the quality of care delivered to patients. One tool that has been developed by Business Intelligence is the Planned Care Dashboard (PCD), which consolidates patient information in one location and alerts MAs when a test or check-up is due. The PCD is designed to make every patient visit more efficient because it provides the MA with an easy to understand list of the planned care the patient is due to receive. Now that staff members have had some time with the PCD, it is time for the research members at Weitzman to evaluate how useful and effective the dashboard really is. Through the PCD Study, the Weitzman research team led by Mary Blankson will evaluate the PCD.
The Planned Care Dashboard was recently approved by the Institutional Review Board (IRB) and will be starting in late February as a two-part study. The research team consists of Mary Blankson, Tierney Giannotti, Daren Anderson, Ianita Zlateva, Zachary Manville, and myself. The first part of the study consists of evaluating electronic health record data before and after the implementation of the PCD. By examining this data the team hopes to determine whether the quality of care rates for patients improved upon implementation of the PCD. In this quantitative portion of the study, the team will yield empirical evidence of the effectiveness of the dashboard.
In the second part of the study, medical assistants (MA) will be recruited to get a preliminary understanding of the effectiveness of the PCD. MAs will be asked to take an online survey where they will have the opportunity to indicate their opinion of the PCD in terms of Ease of Use, Learnability, Data Organization, User Control, and more. In addition to the survey, two researchers will be conducting interviews and think-aloud assessments to evaluate MAs' opinions in more depth. The interview consists of a few questions that encourage participants to openly discuss their experience with the PCD. In the think-aloud portion, the participants will demonstrate use the dashboard and verbalize their thoughts to the researchers. The use of the think-aloud methodology in research is unprecedented in Weitzman history. This is an exciting time filled with unknowns about what the research will yield.
As a whole, the purpose of the study is to provide quantitative and qualitative data to more accurately evaluate the effectiveness and usefulness of the PCD. The members of the research team are excited and ready to get started.
This study is an opportunity for CHC staff to better understand the usefulness of technology like dashboards in health care. We hope to share the data once the study is complete. If you have any questions about the study, please contact Mary Blankson at [email protected].
Cheers and enjoy this comic 🙂