Weitzman Weekly
Weitzman Weekly
Spotlight: Residency Programs w/ Kerry Bamrick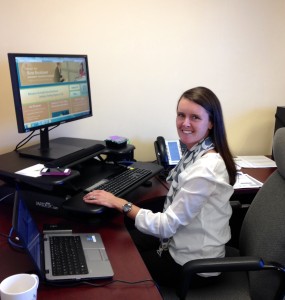 Before we start, I must confess that this article topic was chosen rather selfishly. Like many of you, I did not know much about Kerry Bamrick. I knew Kerry with respect to her involvement on the IRB for CHC but after talking to her, I realized that there is much more to her than meets the eye. Though her work is vast, I want to focus on her critical involvement in the residency training programs at CHC.
Originally from Boston, Massachusetts, Kerry joined the Community Health Center 11 years ago and made the move to Connecticut. She left CHC for a brief period but returned in 2009 to manage CHC's NP residency program and has been here since. When I asked what brought her here, she happily admitted that, "love brought me to Connecticut, my husband brought me here." She describes her current position at CHC as "just administrative work" and not clinical in nature. However, as we talked about the scope of her involvement in the residency programs at CHC, I quickly realized that her role is not "just" as an administrator but as an advocate, leader, and champion for innovative education.
Currently, Kerry is a Senior Program Manager of the nation's first Nurse Practitioner Residency Program and the Post-Doctoral Psychology Program. She was involved in the NP residency program during its infancy and advocated for the growth and expansion of the program. What makes the NP residency program unique is the essential fact that there was nothing else like it in the nation. Even though APRNs work in the same capacity as medical doctors (MD), they do not have the residency period to hone their skills before entering the workforce. Margaret Flinter, Senior VP/Clinical Director of CHC, started the NP residency program with the initial hope of helping ease the transition from education to practice for new nurse practitioners. The NP Residency program is preparing the next generation of leaders in primary care with competency in primary care transformation and the science of quality improvement for improved quality of care and health outcomes. Margaret chose Kerry because of her experience and Margaret's decision appears to be a wise one.
While we talking in her office, Kerry was enthusiastic and proud as she shared information about the NP and Post-Doc Psychology Programs. Both programs are 12 months long and involve precepting/supervision, specialty rotations, weekly didactic sessions, training to CHC's model of high performance health system and a multi-input evaluation component. At CHC, the three pillars that employees abide by are our commitment to clinical excellence, research and innovation, and training the next generation. These three pillars are embedded in the residency programs with the help of all CHC staff led by Kerry. It is for those reasons that the programs attract national attention and prestige. To date- there are now 23 Primary care NP residency programs across the country with 10-15 more planning to launch in 2015, all using CHC's model of residency training for primary care nurse practitioners. In 2014, CHC developed a new model of "remote hosting" of NP residency programs and is running the NP residency programs at Columbia Basin Health Association in Othello, WA and Yakima Valley Farm Workers Clinic in Yakima, WA. This model has the potential to more rapidly develop rigorous NP residency programs across the country.
Kerry was proud as she averred that "our residents are the cream of the crop and most graduated in the top of their class." The program has come so far yet few know about Kerry as one of the key leaders behind the cause.
At the end of our conversation, I asked Kerry to reflect on her experience at CHC. A large proportion of her professional career was spent working here but does she truly enjoy what she does? Her immediate response was non-verbal as she smiled and her eyes got misty. In response to my question about whether she was happy to be at CHC, she said "Yes, yes" before explaining that "I feel blessed to be part of the CHC team and be surrounded by such intelligent people. I mean every position be it PSA, IT, facilities or clinical staff, the people in those disciplines are hard-working people whom I truly respect." Before I left, she shared with me her experience interviewing at CHC and how she was the first person to be interviewed via videoconference. At the time she had to go to Staples in Boston in order to access the video technology. She ends saying "look at how far we've come" and in her head, I believe that she is even more excited about where we will go in the future.
After our conversation, I was extremely impressed by all of Kerry's accolades. Her role as Senior Manager of the NP and Post-Doc Psychology Programs is just a part of all her involvements at CHC. In the near future, CHC is proud to announce the launch of the Dental Residency and Psychiatric APRN Residency Programs. If you want to learn more about any of these residency programs, please contact Kerry Bamrick ([email protected]) or Margaret Flinter ([email protected]).
Cheers and enjoy this comic 🙂