Introducing the Nurse Practitioner Residents!
Introducing the Nurse Practitioner Residents!
CHC has welcomed another class of Nurse Practitioner Residents to our program this fall! They will be gaining experience throughout the sites while bringing their new perspectives. There are ten residents at our sites across Connecticut, but for the first time CHC is also remotely-hosting a program for four NP Residents in Washington State, at the Yakima Valley Farm Worker's Clinic and Columbia Basin Health Association.
We will be introducing them all on the blog here every other Thursday, as with the AmeriCorps Members.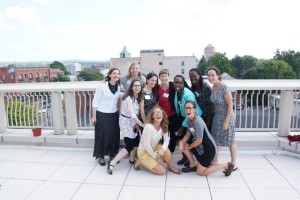 It is our pleasure to introduce Dana Kroop this week, one of the residents who is based in Norwalk. Please read her introduction below!
I graduated from the University of Chicago in 2007 with a BA in the History and Philosophy of Science, and then more recently from the University of Illinois at Chicago with my MSN. As a graduate of an accelerated degree program, I am thrilled to join CHC's residency class and gain more experience in providing holistic care for our nation's neediest patients. I have worked as a Camp Nurse in Indiana, gone on deployment as a Disaster Response Nurse for the American Red Cross, and served on medical missions to Guatemala and Ghana. Before I became a nurse I worked as an educator at the Field Museum of Natural History in Chicago. I think that if I hadn't become a nurse, I'd still be running slumber parties with families and dinosaurs. While in Chicago, I also performed with Funny Bones Improv – an improvisational comedy group that performs in the Child Life Centers of pediatric hospitals. I love musical theater, and plan to try and experience lots of live theater in New York over the coming year.