CHC Presents at Annual Research Meeting
CHC Presents at Annual Research Meeting
For more than 30 years, AcademyHealth's Annual Research Meeting (ARM) has been the premier forum for health services research, where more than 2,400 attendees gather to discuss health policy implications, sharpen research methods, and network with colleagues from around the world. This year, the conference is being held from June 8-10 in San Diego, CA. The Community Health Center, Inc. is represented by its Weitzman Institute with a presentation by Dr. Daren Anderson, our Chief Quality Officer along with a poster presentation by Ianita Zlateva & Khushbu Khatri, key staff members of our Quality Improvement team.
Dr. Anderson presented on Sunday about Care transformation and delivery system reform. The abstract explains the research that Daren and other CHC staff have completed over the past few years. This study, An Evaluation of an Electronic Consultation ("eConsult") Platform to Increase Specialist Access for Patients in Underserved Populations: Impact on Wait Times, Cost and Health Disparities is a great example of CHC's innovations. The research objective is to implement and evaluate a novel electronic consultation (eConsults) program for Cardiology referrals in a large, state-wide primary care practice with the goal of improving access and quality of care delivered to underserved, minority populations. Another great snapshot of CHC's efforts to impact health services research and improve access and quality of care.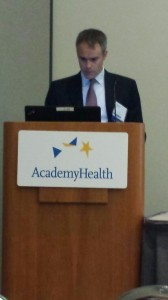 Khushbu Khatri, a research associate in Weitzman Institute (WI) and Ianita Zlateva, Director of Rresearch & Innovation are participating in a poster presentation today during the final day of the conference. Their poster focuses on the idea to develop and validate tools for assessing care coordination (CC) that address the specific nature of care within a safety-net primary care setting and include the perspectives of both patients and their primary healthcare teams.
This study is the first attempt to develop and formally validate a care coordination assessment tool for the primary care safety-net setting. The tool shows promise as a valid and reliable assessment of the care coordination efforts for underserved patients. Take a look at their Presentation poster . We look forward to hearing about the various conversations sparked by this study today during their presentation.
This annual research conference program is designed for health services researchers, providers, key decision makers, clinicians, graduate students, and research analysts which is exactly what the Community Health Center, Inc. involves on a daily basis. It is very exciting to see our Weitzman Institute staff present and represent our organization and all the magnificent work that Dr. Anderson and his team completes on a regular basis. To access all the conference presentations, go to http://www.academyhealth.org/