Community Health Center, Inc.'s Chief Quality Officer Receives Primary Care Leadership Award
Community Health Center, Inc.'s Chief Quality Officer Receives Primary Care Leadership Award
Middletown, CT (November 22, 2013) – At the 6th Annual Primary Care Summit, hosted by the Connecticut Center for Primary Care on November 21, 2013, Community Health Center, Inc.'s (CHC) Chief Quality Officer, Dr. Daren Anderson, was presented with the Primary Care Leadership Award for his exemplary leadership in quality improvement in primary care.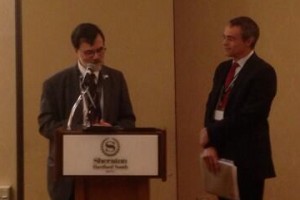 Dr. Anderson, a board –certified internist, joined the staff of CHC in September 1998 and served as a primary care provider and chief medical officer before becoming the organization's first Chief Quality Officer.  Dr. Anderson has implemented change at all levels of CHCI's statewide primary care organization, using research, quality improvement tools, and change processes to develop safe, highly reliable, clinically effective systems of care.
Dr. Anderson is the recipient of numerous research awards to test and study improved methods of care delivery from how primary care providers access specialists to improving the treatment of chronic pain through an innovative, case-based distance learning modality known at Project ECHO-CHC.
"With all of this, Dr. Anderson speaks with compelling eloquence of the unique role of primary care providers in improving the delivery of healthcare and the health of the communities we serve," said Margaret Flinter, PhD, APRN, FAAN, c-FNP, Senior Vice President and Clinical Director of CHC. "He exerts his influence locally within CHC and nationally through his publications, presentations, and consultation with other organizations. CHC is fortunate to have him leading our improvement work."
"Dr. Anderson is a gifted clinician who is committed to re-imaging the role of primary care in our health care system. His work in re-design has a national following that is grounded in commitment to service for those in need," said Mark Masselli, President and CEO of Community Health Center.
"I wanted to be a primary care doctor working for the underserved from the day I chose to go to medical school. But from almost the first day I entered the profession I realized that the system itself wasn't working as it should. I've spent my career trying to find ways to think differently about how we deliver care and provide all patients with the highest quality, person centered care that they deserve," explained Dr. Anderson. "Receiving the Primary Care Leadership Award is an honor, and one that I would like to share with all those I've worked with at Community Health Center, the Weitzman Quality Institute and with our many partners across the country."
The Connecticut Center for Primary Care initiated the Primary Care Leadership Award in 2009 to recognize an individual or team who has demonstrated exceptional leadership in primary care and exemplifies the CCPC Mission and Vision.