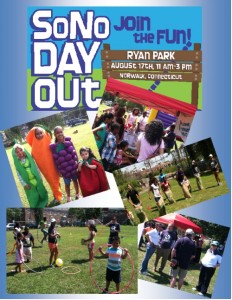 Saturday's SONO Day Out was a HUGE success. The park was full of families enjoying face painting, hula hoop contests, basketball, soccer, kickball, sack races, bouncy house jumping, and balloon animals. The Police Department kept everyone well fed and entertained with music from Cox radio. As special thanks to the Zumba and Yoga instructors, who were able to encourage many people to get moving and stretching. The fair ended with the Police Department bringing the Fire Department to the ground in the tug-of-war. What a perfect way to celebrate National Health Center Week!
Thank you to all the incredible volunteers who brought their family and friends to help show our commitment to the local community. The event would not have been as successful as it was without the following people's involvement: Llara Perez. Angelica Camacho, Carmen Ortiz and family, Enid Guzman and family, Jessica Villeda, JD Ospina, Gleny Rodriguez, Noemy Portillo, Carissa Amos, and some great GE volunteers!
Another thank you to the staff members, who came to celebrate the day with us: Angela Matera, Gabriella Gellrich, Tichianna Armah, Nicole Seagriff,  and Suyapa Higueros.
Everyone agreed that we will do this again next year!