Registered Dietitian Profile – Gail Wikler
Registered Dietitian Profile – Gail Wikler
March is National Nutrition Month. Read on to meet Gail Wikler, a Registered Dietitian at CHC, Inc.!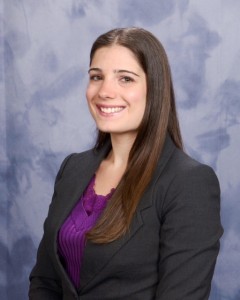 –          What inspired you to become a Registered Dietician?
As I child, I watched both of my parents struggle with obesity and the various diseases that often go along with it (heart disease, type 2 diabetes, high cholesterol – just to name a few) and realized what a large impact diet had on their health. I made it my mission to learn everything I could about healthy eating for weight management and disease prevention. I wanted to better educate my parents, and to be able to help other families with similar struggles. I had the opportunity to shadow a dietitian as a high school senior for 1 month, and realize that it was exactly what I always wanted to be.
–          What's your favorite food?
It's hard to name just one favorite food, but if I had to choose I would say peanut butter. I try to eat one serving a day!
–          Can you briefly describe your favorite recipe?
My favorite dish that I made at home is whole wheat penne pasta with chicken sausage and vegetables.
Ingredients include: whole wheat penne pasta, olive oil, frozen broccoli, frozen red and green peppers, diced onion, garlic, basil and oregano.
Boil water for the pasta. Cook 1 cup of whole wheat penne or other pasta, 8-10 minutes.
Take one chicken sausage (my favorite is al fresco brand) and cut into 10-15 small pieces
Heat a medium pan with 1 tbsp. olive oil; begin to cook the sausages in the pan.
Use whatever frozen vegetables are in the freezer; broccoli, peppers, green beans, etc. and thaw in the microwave. When partially cooked, add vegetables to the pan with the oil and chicken sausage.
Take ¼ white onion and dice into small pieces. Add to the pan
When the pasta is cooked, drain and also add to the pan. Season with garlic, basil, oregano or any spices you love.
This meal is a great source of lean protein, dietary fiber and antioxidants. Not to mention very tasty!
–          What is one general tip you would give to someone looking to improve their diet?
The first thing I look for when evaluating a diet is meal pattern. When people go all day (or many hours) without eating, it causes us to overeat at the next meal because our bodies are starving, and will likely lead to cravings for sweets even when we are done with our meal. My best tip is to always eat 3 meals per day, and try to snack between if you can. Try not to go more than 4-5 hours without eating.
 –          If you were stranded on an island, what is one food/beverage you'd want unlimited supply of?
I would want an unlimited supply of oranges. I never get sick of eating them! Plus they have enough water that I could survive!
–          What does National Nutrition Month mean to you?
It is wonderful to have the importance of nutrition recognized through National Nutrition Month. Many people forget how vital good nutrition is to every individual. Nutrition/Dietetics is a science-based field, so there are always new developments and recommendations to give to help promote better health – and national nutrition month gives us Dietitians a platform to share our knowledge.
–          What's the best part of your job?
I love helping people recognize how small changes in their diet can make all the difference to their overall health. It is great when a patient tells me that at first they were afraid to meet with me, the dietitian, because they thought I would tell them that they needed to change everything about their diet in order to be healthy, but after meeting with me realize that just one or two small changes will do the trick.