AmeriCorps Week 2013 Blog Series – Shelter Now
AmeriCorps Week 2013 Blog Series – Shelter Now
This is the 3rd post in a series of 5 written by various CHC HealthCorps Navigators about their efforts during AmeriCorps Week 2013. Ruthie Tallents wrote this piece about Shelter Now in Meriden.
Keeping in theme with our WYA "Healthcare for the Homeless" AmeriCorps week, the group of us spent Wednesday and Friday at Shelter Now in Meriden landscaping and renovating the playground in the back of the shelter.  This project was particularly fulfilling for us for a few reasons.
For starters, we actually got to see the changes we were making at the shelter.  There is something to be said about working towards a tangible result; it was certainly motivating to be able to see the progress we were making throughout the day!  We raked out the playground area to clear it of all of the debris that had accumulated over time.  Then we laid down new mulch (30 bags and 1 broken rake later) which made a huge aesthetic difference.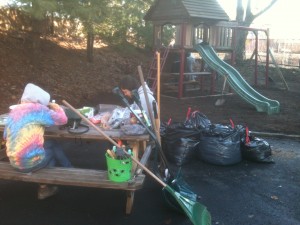 Our other big project there was fixing up the clubhouse, swingset, and two picnic benches.  First we had to clean all of the surfaces and sand them down.  As you can imagine, this was no easy task especially given how brutal this winter has been.  After everything was prepped, we painted everything with several coats of a waterproof stain.  Again, we could really see the difference after we had finished everything.  We put some finishing touches on the playground, including replacing the net on the basketball hoop, leaving a new basketball and soccer ball, and putting up two new swings on the play set!
Another reason this project was so cool to put together was the overwhelming generosity of local businesses (shout out to Home Depots everywhere!).  As part of AmeriCorps Week, we put together a "donation letter" that we distributed to different businesses all over central Connecticut and Fairfield county.  We got great responses from a lot of places.  Home Depot was especially generous, giving us donations in the form of gift cards or supplies.  The Lowe's and Home Depot in Danbury both gave us huge donations: 30 bags of mulch from Home Depot, and swings, paint, and brushes from Lowe's.  (In case the image of 30 bags of mulch is difficult for you to picture, it took 2 trips in my SUV to carry it all!)  Because of the donations from these wonderful businesses, we were able to get all the supplies that were necessary for this project without having to worry about our finances.  We even had enough left over to buy some crafts for an after school program we'll be helping out with at Shelter Now, including supplies for individual planting projects and some birdhouses we can eventually put up!
Hopefully this project will give the kids at Shelter Now a safer, friendlier place to play in after school.  We definitely had a great time working on it and we're looking forward to continuing our work with Shelter Now at the after school programs!