New Horizons Domestic Violence Services – Used Cell Phone Drive
New Horizons Domestic Violence Services – Used Cell Phone Drive
The following piece was written by Carlee Clarino, a HealthCorps Navigator at CHC who organized a recently-completed, used cell phone drive for New Horizons Domestic Violence Services.
     According to the Centers for Disease Control and Prevention (CDC), 23.6% of women and 11.5% of men in the United States have reported being a victim of domestic violence or abuse at some point in their lives. The CDC also reported in 2004 that 1,544 deaths were the result of domestic violence (25% male and 75% female victims).   Statistics like these show why resources for victims of domestic abuse are so crucial.  New Horizons Domestic Violence shelter provides an invaluable service to residents in many areas of Connecticut by offering emergency shelter and resources such as food and clothing. In addition to this, they offer state-wide services including counseling and support groups, safety planning, and a 24-hour hotline.  Despite these great resources, many victims may not have the chance to utilize them.  Due to the controlling nature of many abusive relationships, victims don't necessarily have access to a phone to contact someone in the event they need resources or in the case of an emergency situation.  This is why every year New Horizons organizes a cell phone drive with the help of AmeriCorps members at the Community Health Center, Inc. (CHC). These phones provide victims with a sense of relief and reliability and can also prevent acts of abuse from continuing to occur.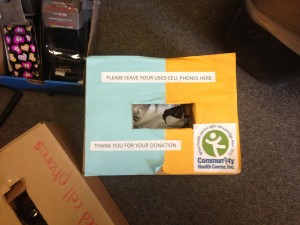 Collection boxes were sent to CHC sites in Waterbury, New Britain, Middletown, Meriden, Stamford, Clinton, and New London and were placed in staff-accessible and centralized locations.  Boxes were also placed at the Russell Public Library, Olin Memorial Library, Usdan University Center at Wesleyan, the Middletown YMCA, and Middletown City Hall.  The boxes were open for donations from the beginning of October through the end of November.  When I checked many of the boxes at the end of November there were at least a few phones in each box.  I was happy to see that many people were willing to give to this worthy and potentially life-saving cause. I decided to extend the deadline until the end of January to give people time to bring in old phones.  The phones really poured in after this extension, most likely as a result of people getting new phones during the holiday season.  In several cases, I needed to make trips to some of the sites to empty out boxes, as they were too full and had run out of room!
      Throughout the process, I sent out many reminder emails.  I believe that these messages helped a lot in reminding people to get their phones in and to promote conversation and excitement about this project!  My reminder emails spurred many responses inquiring about what types of phones were acceptable (all, I replied, help in some way) and informing me that  people had access to lost-and-founds or other means that could result in collecting even more used phones!  With each reminder email, I seemed to reach more and more people and the boxes kept filling up.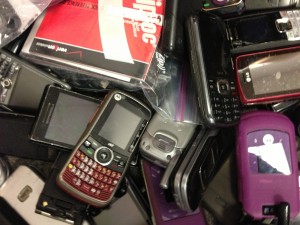 We have collected about 150 phones in working condition.  These phones will – at the very least – help calm nervous victims, and in some instances they may even save lives.  I have met some of the families living at the shelter and I can honestly say that the phones will all be going to loving families working their way through crisis.  I would like to say thank you on behalf of the future recipients of these generous offerings!  And also (as a last reminder) remember to save your phones for next year!
       New Horizons Domestic Violence Services offers free and confidential support groups for children and adults. If you or anyone you know is interested, please call 860-344-9599 for more information.