FoodCorps Service Member Profile – Deanna Lampo
FoodCorps Service Member Profile – Deanna Lampo
Meet Deanna Lampo, a FoodCorps Service Member based out of the CHC, Inc. in New Britain!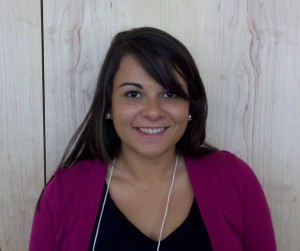 –          Can you tell us a bit about your educational background?
I graduated from Millersville University of Pennsylvania with a Bachelor's of Arts degree in Sociology, with a minor in Cultural Anthropology and concentrated the majority of my undergraduate research on Food and Culture.
–          What about joining CHC most excites you?
Being a part of team that is working so diligently to improve communities throughout Connecticut, all while having fun in the process!
–          If not seeing patients/serving at CHC you would rather be _____________?
Exploring! Whether it'd be hiking or trips throughout New England, I love to travel!
–          What musical artist currently dominates your iPod?
That's a tough one! I love music and have a very diverse selection on my iPod, but a few of my favorite artists are The Black Keys, Florence + The Machine, Dr. Dog, and Mumford and Sons. I also have a great appreciation for Lady Gaga.
–          Do you have a unique talent?
I love to cook, and am great at working with any and all ingredients I have available, however abundant or limited they might be, and have it turn out delicious, at least in my opinion.
–          What is your favorite sports team?
The New York Rangers.
–          What is your current favorite movie?
Shawshank Redemption, I love anything starring Morgan Freeman.
–           What is your dream job?
Either working or owning an educational farm and winery, so that I can incorporate all of my interests and passion for all things food and culture.
–          What is one thing you would like the CHC team to know about you?
To learn even more about Deanna, check out her FoodCorps bio in the link below! http://foodcorps.org/become-a-service-member/our-service-members/deanna-lampo