National Homeless Persons' Memorial Day
National Homeless Persons' Memorial Day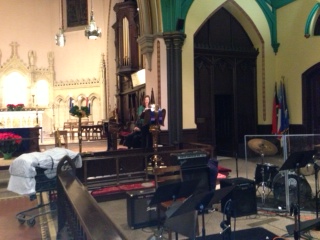 Across the country, last Friday, the longest night of the year, people stopped to remember homeless people that have died.  Here in Middletown, Martha Trevey, one of our primary care provider for homeless people,  shared some of her thoughts with those gathered:
Today, December 21 st, is the winter solstice. It marks the longest night of the year. It will be dark for over 15 hours tonight in Middletown, CT. For those of us that are homeless, this means 15 hours of trying to find a warm place to rest and find refuge from the cold.
Not only does this time of year bring long dark nights, but the Holiday season can sometimes bring aching hearts as we miss the company of loved ones who have died this past year.  We gather today to remember those in our community who have been homeless and passed away. We remember their spirits and their love. Some individuals may have been sick from a long struggle with a chronic illness, others might have suffered from mental health conditions, and others suddenly taken away from us in a tragic accident. No matter the cause of death or how they passed away, we remember them today and honor their lives.
As a primary care provider for the homeless, I know too well the connection between health and homelessness. If one suffers from chronic illnesses, they are at an increased risk for homelessness. In turn, homelessness has a direct correlation to poor health. The constant stress of moving and not having a safe and sustainable place to rest decreases immune function. When immune function is compromised, we are worn down and more susceptible to all sorts of illnesses. To add on top of the struggle for food, shelter, and warmth—it is difficult to maintain complex medication regimens or shuffle between medical provider appointments and navigate our complex health care system – a task which sometimes can seem like a full time job. Together with the Community Health Center, we hope to decrease barriers to healthcare by being "Wherever You Are" in the local shelters to provide quality health care in hopes of breaking the connection between homelessness and poor health.
It is important for us to hope for a better future.  We hope to prevent the situations which caused our loved ones to pass away. We can hope for more affordable and sustainable housing options. We are very close to a systematic change in our health care system that would radically expand the accessibility of mental and medical health care services to individuals around the country. We seek to eradicate injustice by coming together and loving our neighbors and lifting up our community.
I will leave you with a quote from Elizabeth Ross:
"People are like stained glass windows. They sparkle and shine when the sun is out, but when darkness sets in their true beauty is revealed only if there is light from within."
I wish you peace this holiday season.