Dr. Alice Chen Visit
Dr. Alice Chen Visit
The following piece was written by Jackie Wang, a HealthCorps Navigator at CHC, Inc. serving in the Quality Improvement Department.
     Last Friday,  Community Health Center, Inc., was honored to host Alice Huan-mei Chen, M.D., M.P.H. Dr. Chen is the Chief Integration Officer at San Francisco General Hospital (SFGH), the Director of the Center for Innovation in Access and Quality at SFGH, and an Associate Professor of Medicine at the University of California-San Francisco (UCSF). At SFGH, Dr. Chen cares for primary care patients, precepts internal medicine residents, attends on the inpatient medical service, and staffs the medical consultation service. As Chief Integration Officer, she leads the ongoing creation of an integrated delivery system for the Department of Public Health. A major component of this new system is SFGH's eReferral Program, an innovative program to close the gap between primary and specialty care. Dr. Chen championed and currently serves as Director of the eReferral Program. CHC is one of many organizations across the country working to replicate this model.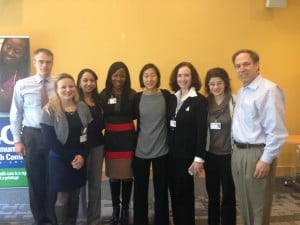 A quick primer on eReferrals at SFGH:
Primary care providers (PCP) in the San Francisco safety net use a web-based system to electronically refer patients to a specialty clinic/service
The referral includes a free-text consultation question and information from the patient's electronic health record
Each specialty clinic has chosen a reviewer who responds to all eReferrals within three business days.  There are a few possible responses:

Agrees that appointment should be scheduled. Specifies whether appointments are "urgent" and sends to scheduler.
Requests more information or evaluation from the PCP before making a decision
Decides that patient can be co-managed by the PCP with specialist advice.
The system allows for back-and-forth dialogue between the PCP and specialist reviewer.
More than 44 different specialty clinics participate, providing care in cardiology, endocrinology, rheumatology, orthopedics, and more.
And eConsults, CHC's program for electronic referrals:
CHC providers send a secure "peer-to-peer" referral to Dr. Christopher Pickett, a cardiologist at the University of Connecticut Health Center
Dr. Pickett responds within two business days, in similar fashion to SFGH's specialist reviewers: (1) gives advice for primary care management (2) additional information/tests/labs are needed (3) patient needs a face-to-face appointment
Plans to expand to additional cardiologists and other specialties in the future.
Finally, some of the benefits that SFGH's eReferrals has achieved:
Reduce wait time and increase access to specialty care by eliminating unnecessary appointments
Specialists know the purpose of the patient's visit (previously difficult because of illegible referral forms, language barriers with patients)
Required information and diagnostic testing is completed before the first specialist visit
Appointments are scheduled based on clinical "urgency" rather than "first come, first serve"
Cost savings: SFGH has reduced costs for some specialties and maintained cost-neutrality in others
Increase collaboration between PCPs and specialists, creating opportunities for PCP education
     At the risk of sounding completely unprofessional: cool, right?!? I haven't directly participated in CHC's eConsults project, so I had limited prior knowledge of electronic referrals. But, based on what I learned on Friday, they are potentially transformative. Patients often fall through the cracks at the primary care-specialty care interface; electronic referrals are a powerful way to coordinate care across these services.
     San Francisco is truly leading the way in this innovation. There are a few aspects of its program that I found especially interesting. The SFGH team has recently implemented a bidirectional rating system: specialty reviewers rate the PCPs on the quality of their consultative question and information provided; PCPs rate the reviewers on the quality of their response. These surveys should provide helpful feedback to both parties, leading to improved communication. Furthermore, the electronic referrals stay open for six months after the last update, allowing for an ongoing conversation between the PCP and specialist. Finally, San Francisco's system takes advantage of a shared electronic health record; specialists have complete access to patients' records. CHC unfortunately does not have this advantage, and will need to work harder to collaborate effectively with specialists. I am interested to see how our program adapts San Francisco's methods to our specific context. But I am, of course, most excited to see the impact of eConsults on the quality of care for our patients!