Hurricane Sandy Relief Efforts – Coat & Warm Clothing Drive
Hurricane Sandy Relief Efforts – Coat & Warm Clothing Drive
Just about a month ago, Hurricane Sandy devastated much of the eastern seaboard of the United States. Canada, Jamaica, Haiti, the Dominican Republic, Cuba, and Puerto Rico were also affected by this terrible storm, which has since been deemed the largest Atlantic hurricane in history. The coastlines of New York, New Jersey, and Connecticut all suffered tremendously, and recovery efforts will be taking place for quite some time into the future.
In the aftermath of Sandy, the HealthCorps Navigators at CHC, Inc. decided that they needed to do their part in supporting the victims in Connecticut. With CHC sites in Stamford, Norwalk, Clinton, Old Saybrook, New London and Groton, many of our patients and staff were directly impacted by the hurricane. The influx of cold weather in the days following Sandy led the Navigators to engage in a Coat & Warm Clothing drive, and it turned out to be a huge success.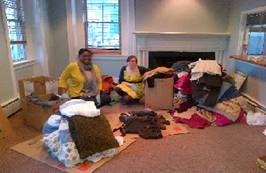 Donation bins were set up at a number of CHC's sites, and here is a summary of what was collected…
–          34 hats
–          13 scarves
–          15 pairs of gloves
–          40 pairs of socks
–          6 pairs of shoes (2 pairs of boots)
–          5 vests
–          12 blankets
–          42 sweaters
–          34 miscellaneous items (ski pants, long sleeve shirts, etc.)
–          And 94 COATS!
 Total = 295 items
CHC's HealthCorps Navigators would like to sincerely thank all of those that helped make the Coat & Warm Clothing drive such a success. The people receiving these donations will be extremely grateful and are sure to stay warm during the upcoming winter months!