Follow Up – Domestic Violence Awareness Month
Follow Up – Domestic Violence Awareness Month
With the month of October being both National Depression Awareness Month and Breast Cancer Awareness Month, it is not too difficult to forget that there are other, very important initiatives taking place at the same time. One such ongoing campaign is Domestic Violence Awareness Month, and we at CHC were sure to pay special attention to this serious cause.
New Horizons – CHC's domestic violence support services center – organized an event at the Cold Stone Creamery in Middletown to raise money for efforts in curtailing this significant issue. From 4:30 to 7:30 pm on Wednesday, October 24th, members of both the staff at New Horizons and CHC's HealthCorps Navigators took turns scooping ice cream for community members. Twenty-five percent of the proceeds went directly to CHC's domestic violence support services, which was not only a testament of Cold Stone's commitment to stopping domestic violence, but also to its relationship with the Community Health Center, Inc.. Though the event started off relatively slow, it picked up in the latter half of the night after many locals had finished up dinner. Several CHC employees stopped by to show their support, and the staff at Cold Stone was kind enough to show our New Horizons volunteers and Navigators how to properly prepare each individual order. Who knew making ice cream was such an art form?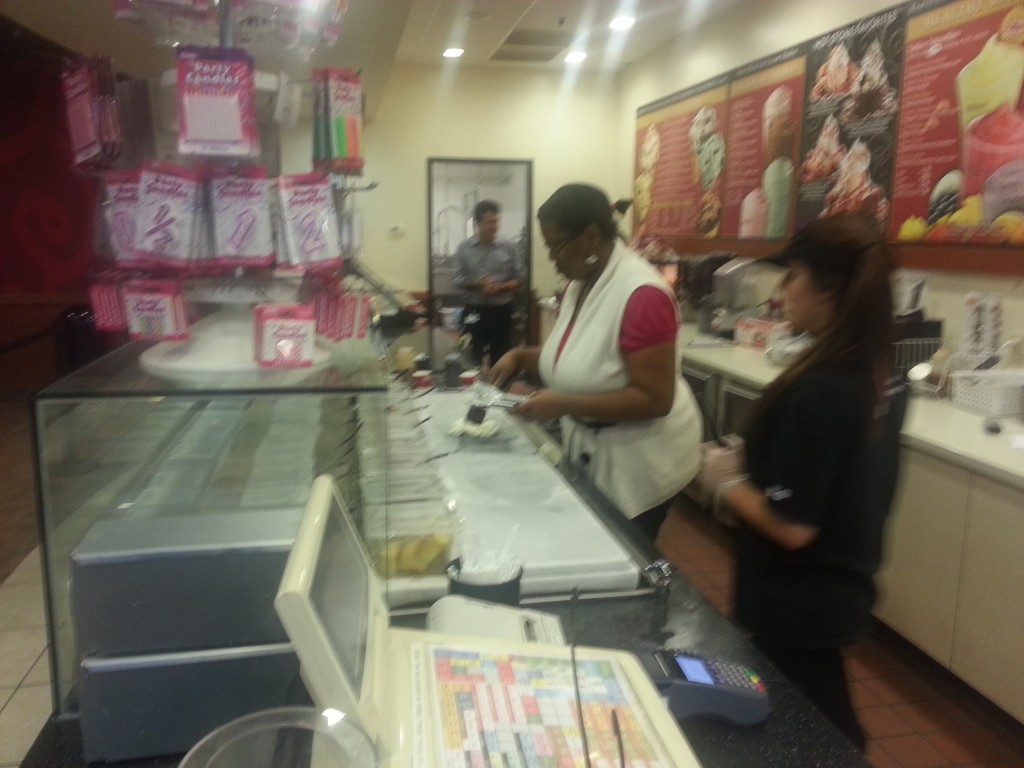 Another effort made by New Horizons and CHC to inform the community about domestic violence came in the form of The Clothesline Project. Started by the Cape Cod Women's Agenda in 1990, The Clothesline Project sees women who have suffered from domestic violence create shirts that express their emotions or special messages for the general public. New Horizons has been participating in this event for the last 15 years – originally starting at Bushnell Park in Hartford – and a variety of shirts were displayed in many of CHC's waiting rooms for a week beginning on October 22nd. Even taking a quick look at this exhibit can be an emotional experience, and the words and sayings written across many of the shirts provides a resounding reminder about how severe an issue domestic violence is.
A third endeavor undertaken by the Community Health Center, Inc. to raise awareness about domestic violence came in asking staff members to wear purple ties on Tuesday, October 30th. The concept behind Purple Tie Tuesday is for men to show their commitment to ending domestic violence by wearing violet neckties on a particular date. Unfortunately, Hurricane Sandy came to town just a day before and caused significant damage to many parts of Connecticut, making it especially difficult to coordinate the wearing of purple ties on Tuesday. The spirit was still very much alive, however, and even the planning of this event went quite a ways in terms of getting people to think about domestic violence and what they can each individually do to help end it moving forwards.
Though it is now November, the fight against domestic violence continues. One in three women will be a victim of domestic violence in their lifetime. Stay informed, raise awareness, and always do the right thing.