New HealthCorps Navigator Profile – Ruthie Tallents
New HealthCorps Navigator Profile – Ruthie Tallents
Meet Ruthie Tallents, a new HealthCorps Navigator serving at the Family Wellness Center in New Britain!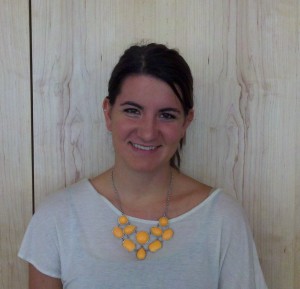 Can you tell us a bit about your educational background?
–          I spend my undergrad at the University at Buffalo and got a BS in Pharmacology & Toxicology.
 What about joining CHC most excites you?
–          I'm looking forward to getting to know the families that come through the Family Wellness Center.  It's exciting to be able to have a hand in many of the programs offered through the FWC and learn more about all of the programs that CHC offers to its patients.
  If not seeing patients/serving at CHC you would rather be _____________?
–          Spending time outdoors!
 What musical artist currently dominates your iPod?
–          Sara Bareilles
 Do you have a unique talent?
–          Inexplicably good at card games; I can't be beat in Spoons.
 What is your favorite sports team?
–          I follow the US Women's National Soccer team; and of course the Bills and the Sabres.
 What is your current favorite movie?
–          V for Vendetta
 What is your dream job?
–          Still narrowing it down, but definitely anything that allows me to be active.
 What is one thing you would like the CHC team to know about you?
–          With six younger brothers and sisters running around the house, my family is a hilarious and altogether less composed version of the Brady Bunch.