CHC Picnic 9/9/12
CHC Picnic 9/9/12
Entering into a new stage of life can be daunting, overwhelming, confusing and frustrating. As a recent college graduate, I can undoubtedly say I have experienced all of these feelings since receiving my diploma in late May, and the current state of the job market has only made matters more interesting for my peers and I. I was fortunate enough to discover AmeriCorps – and in particular the Community HealthCorps program within which I am currently serving – early this past summer, which opened my eyes to an opportunity that I had not previously known about, let alone considered. The application that I submitted at the Community Health Center, Inc. was submitted – in all honesty – among many others, including at jobs in a variety of professional fields. However, I am very glad that I ended up taking the position I now have at CHC.
Like so many other people, one of my biggest concerns when embarking on a new journey is getting comfortable in my surroundings. I can happily report that this process has been quick and that I have been welcomed with open arms at CHC. There is perhaps no better example of this than my experience at the CHC Staff Picnic, which took place on Sunday, September 9th.
The picnic was held at the Wadsworth Mansion, a gorgeous estate in western Middletown that dates to the early 1900s. The weather could not have been any better and the day proved to be a big success. My father and I got to the picnic around one o'clock and we were greeted by two or three incredibly friendly CHC-employees, who had volunteered to help with registration. Their warm welcome was a sign of what was to come, as literally everyone that we spoke to was in great spirits and eager to enjoy the festivities that had been arranged.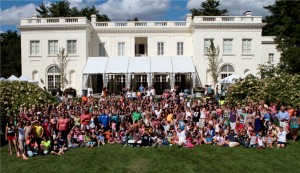 The variety of activities was great and suited a wide spectrum of ages. Pony rides and a climbing wall were set up for children, and though I was deemed too large to ride one of the ponies, it looked like all of the kids in attendance were having a great time. A grass volleyball court had a steady flow of matches in session, and there were plenty of tents and shady spots for those who just wanted to relax. There were several different catering companies on site, and everything that I put on my plate tasted pretty good. My dad and I spent the better part of two hours at the picnic, and we both enjoyed ourselves throughout.
The most important realization that I took from this event was how inclusive of a community CHC is. Of course, "community" is the first word in the organization's title, but smiles and positive attitudes seem to be contagious across every department and at every site. Mark, Margaret, and every other person that I have met in my first few weeks at CHC went out of their way to introduce themselves to my father at the picnic, and that really rang true for me. Though CHC employs over 600 people, the picnic gave me the feeling that it is a small, tightly knit community where everyone is friendly, approachable and invested in the same goals.
The picnic was a blast and I look forward to strengthening the relationships that I already have with my new peers!