Anne Marie Hart Visits CHC's Nurse Practitioner Residency Program
Anne Marie Hart Visits CHC's Nurse Practitioner Residency Program
Kerry Bamrick has shared the following photograph and information about a recent visit to our Nurse Practitioner Residency Program.
Anne Marie Hart,PhD, FNP-BC visited from Wyoming and spent the day at our New Britain site learning more about our Nurse Practitioner Residency Program. Anne Marie conducted a survey and published an article on "How prepared new nurse practitioners are for practice". We use the results of her survey and quote her article regularly, so it was an honor and pleasure to meet her in person.  We hope to collaborate with her in the future around nurse practitioner surveys.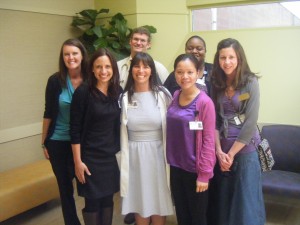 Also in the photo is Drs. Dudley and Martin, Amber Richert, Jane Anichini, Hao Pham and Kerry Bamrick.